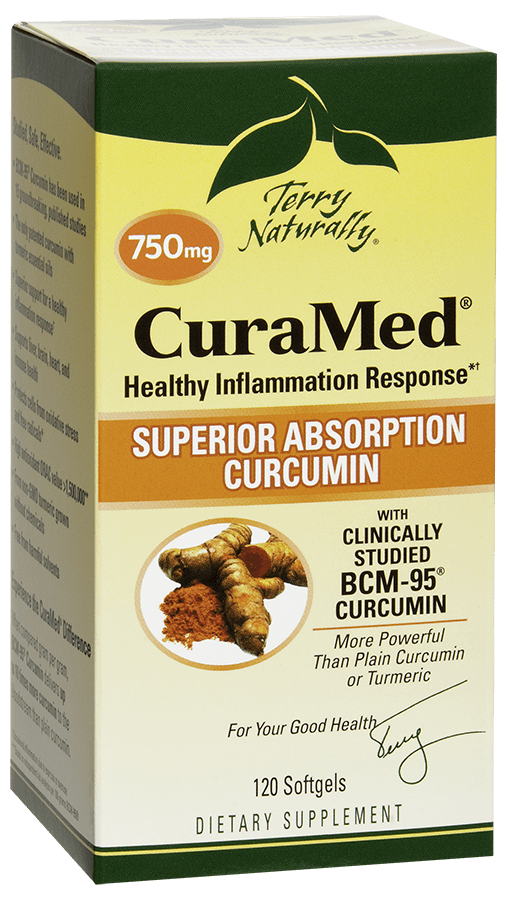 CuraMed® (750 mg)
Healthy Inflammation Response*†
SUPERIOR ABSORPTION CURCUMIN
More Powerful Than Turmeric
SKU 20293 | 30 Softgels
SKU 20296 | 60 Softgels
SKU 20292 | 120 Softgels
Absorbs Better • Works Longer • More Effective • Clinically Proven Results
The only patented curcumin with turmeric essential oil
Superior support for a healthy inflammation response†
Supports liver, brain, heart, and immune health
Protects cells from oxidative stress and free radicals*
High antioxidant ORAC value >1,500,000**
Provides 500 mg of full spectrum curcuminoids per softgel
From non-GMO turmeric grown without chemicals
30 groundbreaking, published studies
The CuraMed® Difference
When compared gram per gram, clinically studied Curcumin delivers up to 10 times more curcumin to the bloodstream than plain curcumin.

View product brochure (PDF) to learn more

Best Antioxidant in the Vitamin & Mineral Category
This is the first award for CuraMed!
† Occasional inflammation due to exercise or overuse
Serving Size: 1 Softgel
Servings Per Container: 30, 60 or 120
Ingredient
Amount/Serving
Daily
Proprietary Complex
750 mg
**

Curcumin (Curcuma longa) Rhizome Extract (BCM-95®) enhanced with turmeric essential oil and standardized for curcuminoid complex (curcumin, demethoxycurcumin and bisdemethoxycurcumin), phospholipids, supplying 500 mg of pure curcuminoids.

---

**Daily Value (DV) Not Established
Other Ingredients: medium chain triglycerides, gelatin, glycerin, sunflower lecithin, yellow beeswax, purified water, and turmeric in sunflower oil (softgel color).
No: sugar, salt, yeast, wheat, gluten, corn, soy, dairy products, artificial coloring, artificial flavoring, or artificial preservatives. Color variations are normal.
Recommendations:
1 softgel daily, may increase as desired.
Using patented technology, this proprietary complex provides enhanced absorption and sustained retention time at meaningful levels in the body.
NON-GMO
All ingredients established in human studies for safety and effectiveness. Does not interfere with stomach, liver or kidney function.


BCM-95® is a registered trademark of Dolcas-Biotech, LLC.
Why are there so many dosage options for CuraMed®? Which one is best?
CuraMed is available in different dosages and delivery systems in order to provide multiple options for consumers with different preferences. For those that desire a high dose formula, we recommend CuraMed 750. CuraMed 375 is an excellent choice for those who are looking for a smaller or maintenance dose. CuraMed 200 was intended for those who prefer a capsule delivery system or those looking for a vegetarian product. And finally, CuraMed effervescent is ideal for people who have difficulty swallowing traditional capsules or tablets.
How is CuraMed® different than Curamin®? Can we take them both together?
CuraMed provides enhanced absorption curcumin with turmeric essential oil, and is our highest potency, all-curcumin product. Curamin provides curcumin along with boswellia, DL–phenylalanine (DLPA), and nattokinase as a combination for occasional muscle pain due to exercise or overuse.* It is perfectly fine to use them together, according to your individual preferences.
How does the curcumin in CuraMed® compare to other curcumin and turmeric products?
The proper product comparison is curcumin to curcumin. However, since many companies are comparing their curcumin absorption to turmeric, we provide this information as a service to our customers.
• Plain curcumin 95% delivers up to 50 times more curcumin as the same amount of turmeric.
• CuraMed's unique curcumin has been proven to deliver up to 10 times more curcumin into the bloodstream as the same amount of plain curcumin.
• Therefore, when compared gram per gram, CuraMed delivers up to 10 times more curcumin than plain curcumin 95% and up to 500 times more curcumin than found in an equal amount of turmeric.
Thanks to CURAMED I have almost total relief.
"Thanks to CURAMED I have almost total relief. I have taken turmeric in the past with great success but this tops them all with a total days worth of relief with just one in the morning and one at night. Thank-you for your prayers and all the hard work in helping me to find some solution. Keep on keeping on; and now I can do the same. Good luck and God bless!"
— Tim K.
CuraMed is good for my body!
"Laying awake in bed, I decided to try CuraMed 750 mg. To my relief, I was able to go right back to sleep with significant relief. I had also recently been looking for liver and intestinal support without harming my body. I believe the curcurmin in CuraMed is good for my body."
— Becky H
Dramatic relief with CuraMed 750 mg
Since I started taking CuraMed 750 mg two years ago, I have experienced dramatic relief of occasional muscle pain and stiffness associated with exercise, particularly in the morning after a night's sleep. I enjoy walking and hiking as my primary form of exercise and CuraMed has proven to be a godsend in allowing me to keep active and in good condition. Thank you so much for making this excellent product available. I fully expect to be a loyal customer for many years to come.
— Marc K.
CuraMed is incredible!
"A nutritionist highly suggested CuraMed. This is an incredible product and will tell continue to tell everyone about it!!!"
— Angela D
Curamin and CuraMed My New Best Friend
I am so Overjoyed with being "Pain Free"*†, I am telling everyone I know about my New Best Friends, CuraMed and Curamin!!!!!!!
I am 56 years old and thought I was down for the count, but Thank God for my Health Food Store that introduced me to Terry Naturally Products. I truly am a Fan and Customer for life. Words cannot describe how well I feel.
†Occasional muscle pain due to exercise or overuse
— Stacy
I have told EVERYONE about CuraMed!
"I am writing to Thank You. I started giving CuraMed to my husband. I call it a miracle. I have told EVERYONE about CuraMed and know at least 20 of those I have told are now taking Curamed and singing the praises to the people they know. My husband should have been a case study for CuraMed. Please know how truly thankful I am for your product and my entire family will be taking CuraMed for the rest of our lives and trying to convince everyone we meet to do the same!!"
— Jean V
I can't believe the difference I feel with Curamin
"I started Curamin a month ago and I can't believe the difference I feel. I didn't think it was really doing anything at first but I finished the bottle and I couldn't get another bottle right away and within 2 days I could tell the difference. I am now a believer and will be taking this miracle for the rest of my life. Thanks to my supplement store guy, he has given me my life back."
— Lana M