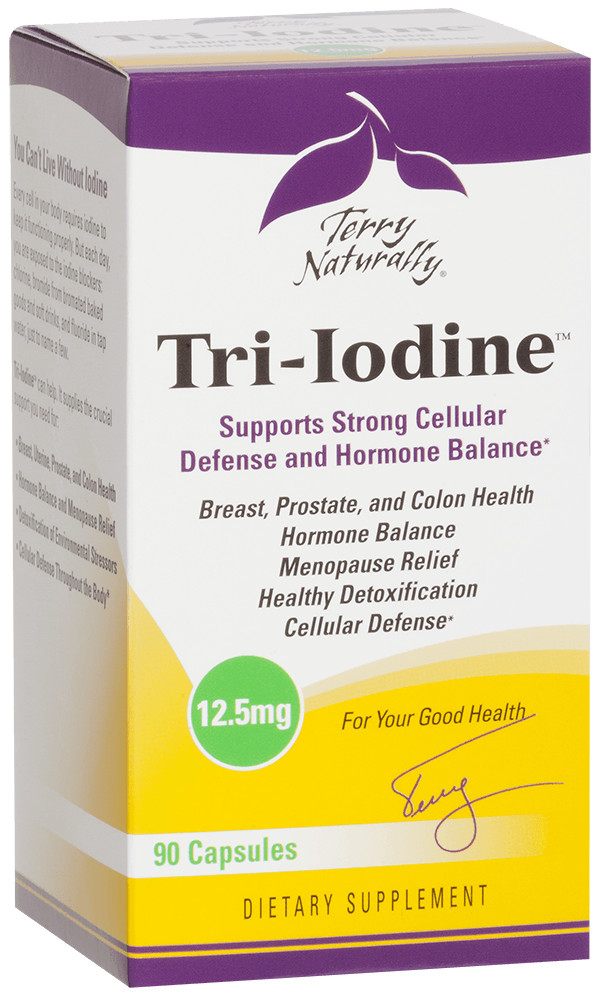 Tri-Iodine®
Supports Strong Cellular Defense and
Hormone Balance*
SKU 11790 | 90 Capsules (6.25 mg)
SKU 18299 | 90 Capsules (12.5 mg)
SKU 18290 | 180 Capsules (12.5 mg)
SKU 19003 | 30 Capsules (25 mg)
SKU 19006 | 60 Capsules (25 mg)
SKU 42009 | 90 Capsules (3 mg)
SKU 27446 | 60 Chocolate Chewable Tablets (500 mcg)
Breast, Prostate and Colon Health • Hormone Balance • Menopause Relief • Healthy Detoxification • Cellular Defense*
Tri-Iodine™ features three different forms of iodine to nourish multiple body systems: a blend of potassium iodide, sodium iodide, and molecular iodine.
Three forms of iodine provide a wider spectrum of benefits:
Potassium iodide and sodium iodide for hormone balance and immune health.
Molecular iodine for breast, prostate, colon, and cellular health*

Tri-Iodine™ supplies the crucial support you need for:
Breast, Uterine, Prostate and Colon Health
Hormone Balance and Menopause Relief
Detoxification of Environmental Stressors
Cellular Defense Throughout the Body*
Serving Size: 1 Capsule or 1 Chewable Tablet
Servings Per Container: 30 (25 mg), 60 (500 mcg, 25 mg) 90 (3 mg, 6.25 mg, 12.5 mg), or 180 (12.5 mg)
Ingredient
Amount/Serving
Daily
Iodine
500 mcg (0.5 mg)
333%

(as sodium iodide 305 mcg, potassium iodide 189 mcg, molecular iodine [from kelp] 6 mcg)

---
Other Ingredients: Capsules: microcrystalline cellulose, hydroxypropyl methylcellulose (vegetable cellulose capsule), silica. Tablets: xylitol, natural chocolate and vanilla flavors, stearic acid, vegetable source magnesium stearate, silica.
No: Capsules: sugar, salt, yeast, wheat, gluten, corn, soy, dairy products, artificial coloring, artificial flavoring, or artificial preservatives. Tablets: sugar, salt, yeast, wheat, gluten, soy, dairy products, artificial coloring, artificial flavoring, or artificial preservatives.
Recommendations: 1 capsule or tablet daily with food.
VEGAN NON-GMO
If pregnant or nursing, consult a healthcare practitioner before using.
Isn't iodine just for preventing goiter?
Actually, only a small amount of iodine is necessary for preventing a iodine nutrient deficiency such as goiter. But today, doctors have found that all tissues of the body require iodine. The breasts, ovaries, uterus, thyroid, brain and prostate tissue require large quantities of iodine. In the early 1900s Dr. Szent-Györgyi, the discoverer of vitamin C, was reported to have said that they did not know what iodine did in medical terms but it did everything good and was used for almost all health conditions. It is also reported that he himself ingested 1,000 mgs a day of iodine.
Why not just take one form of iodine?
Adding iodine to your regimen can certainly have benefits overall, but these three forms of iodine are more selective for different tissues. For instance, we include molecular iodine because of research that reviewed study results of breast health. It noted that while all forms tested (molecular iodine, sodium iodide and potassium iodide) produced beneficial effects, the best results for breast support were achieved with molecular iodine. However, in the case of thyroid health and the creation of thyroid hormones, sodium iodide and potassium iodide are the best form for support.*
Can iodine really make that much of a difference?
Yes. Consider this example: The quality of health of Japanese women is far superior to women in the United States. It has been estimated that Japanese women ingest 12.5 mgs of iodine daily. On the island of Okinawa, there is a higher percentage of people over 100 than anywhere else in the world. It has been reported that they ingest, through their diet, 80 to 200 mgs of iodine daily. Although it's mostly recognized for its role in the formation of thyroid hormones, many organs in the body utilize iodine. Breast, uterine, prostate, brain, and ovarian tissues in particular have high iodine requirements.
Thank you so much for Tri-Iodine!
"I just met you at "Peach Tree" in Columbus Georgia last weekend. I told you about my health, and you suggested Tri-Iodine for my thyroid. I want to tell you that I now wake up feeling terrific. Thank you soooo very much for your wonderful advice !!!! I even have more energy during the day, thank you again and God Bless you and all the work you do!"
— Jan S.
I am happy now, w-a-n-t to get out of bed, have great energy!
I have worked in a health food store for 13 years and started studying nutrition when I was 15. I know the products we have (the store is 24 years old and family owned). Have tried all Thyroid supplements we have without being impressed. Tyrosine also by itself was not enough. I thought I would try your ThyroidCare, because I had used AnxioCalm with great results, and know your products have a money back guarantee so I thought "what the heck." Wow! After the second morning, I felt like I had been shot out of a cannon!!! Really. I am happy now, w-a-n-t ! to get out of bed. Have great energy into the night and don't feel sluggish. I am seriously impressed, have sold many bottles now of this tremendous product. Thus far, I really trust you Mr. Terry, and always tell my customers that. Please continue the fine quality. My customers trust and rely on me to recommend products I trust. God bless you.
— Anna