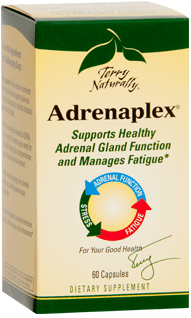 Adrenaplex®
Supports Healthy Adrenal Gland Function and Manages Fatigue*
SKU 37006 | 60 Capsules
SKU 37002 | 120 Capsules
Powerful Ingredients For Challenging Days:

Adrenaplex helps restore nutrients lost by stress and supports adrenal hormone balance for optimal physical and mental health.*
Provides safe, bio-identical DHEA, a crucial adrenal hormone, plus pregnenolone and targeted adrenal extract
Helps restore energy and stress resistance with powerhouse nutrients
Supports healthy adrenal hormone levels with licorice and rehmannia*
Serving Size: 2 Capsules
Servings Per Container: 30, 60
Ingredient
Amount/Serving
Daily
Vitamin C (as ascorbic acid)
200 mg
333%
Vitamin C (as ascorbic acid)
200 mg
333%
Vitamin B6 (as pyridoxal-5-phosphate)
10 mg
500%
Vitamin B6 (as pyridoxal-5-phosphate)
10 mg
500%
Pantothenic Acid (as d-calcium pantothenate)
100 mg
1,000%
Adrenal Extract (Freeze dried)
450 mg
**
L-Tyrosine
450 mg
**
Licorice (Glycyrrhiza glabra) Root (5:1) Extract
125 mg
**
Rehmannia (Rehmannia glutinosa) Root (5:1) Extract
75 mg
**
Pregnenolone
15 mg
**
DHEA (dehydroepiandrosterone)
10 mg
**

---

**Daily Value (DV) Not Established
Other Ingredients: gelatin, microcrystalline cellulose, vegetable source magnesium stearate, silica, maltodextrin.
No: sugar, salt, wheat, gluten, soy, dairy products, artificial coloring, artificial flavoring, or artificial preservatives.
Recommendations: 1 to 2 capsules daily. May increase to 2 capsules, 3 times daily, if desired.
NON-GMO
If pregnant or nursing, consult a healthcare practitioner before using.
Should I be concerned about the licorice in Adrenaplex?
While some individuals with blood pressure concerns may want to avoid large doses of licorice, generally speaking, licorice extracts at lower levels (like the extract in Adrenaplex) will only have beneficial effects.
Is there any caffeine in Adrenaplex?
No, Adrenaplex is a caffeine-free formula, and is not a stimulant. Its combination of ingredients simply help the body and mind respond to stresses and fatigue throughout the day.*
Can you please provide more details on the purity and testing of the adrenal extract?
The animals used to provide the raw materials are examined before slaughter to ensure they are healthy and suitable for use in a food product. The adrenal glands are dried and the powder is tested for purity and safety. The supplier provides us with documentation assuring the raw material meets specifications. We also do additional, third party testing on finished products to confirm the information provided by the vendor. Our manufacturing facility is registered with both the United States Department of Agriculture (USDA) and the Food and Drug Administration (FDA).
Is the adrenal extract derived from just the adrenal gland or is it derived from multi-glandular sources (heart, liver, kidneys, spleen, etc)?
This is a pure adrenal extract. There are no other glandular ingredients added to it.
Where do you get your adrenal extracts from?
The adrenal extract is from a bovine source. The beef cattle are range-raised in Argentina, one of the best sources available worldwide.
What is rehmannia?
Rehmannia (
Rehmannia glutinosa
) or Di Huang is an herb native to northern China. The roots are the beneficial parts of the plant. It is considered a warming herb and a tonic (intended to restore or invigorate) and is used in Traditional Chinese Medicine to tone the blood and restore energy. *
Should Adrenaplex be taken with meals or on an empty stomach?
Whether to take Adrenaplex with meals or on an empty stomach is a matter of individual preference. Occasionally, some mild stomach upset or nausea may be experienced, in which case we suggest taking this product with food.
Adrenaplex is Amazing!
" I have been using nutritional information for many years. A man that works at my nutritional store suggested your Adrenaplex. It is amazing. Thank you for your time. You are a genius and I pray that you will continue to be able to help me in the future. God Bless you Terry."
— Kerry M