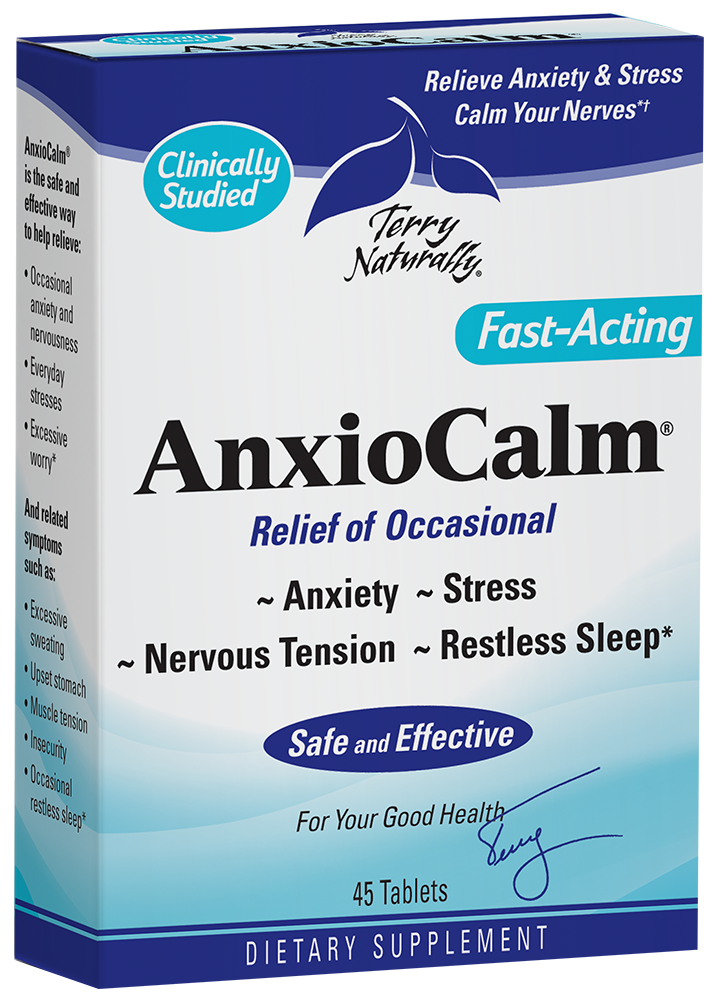 AnxioCalm®
Relief of Occasional:
Anxiety • Stress • Nervous Tension • Restless Sleep*
Anxious? Overwhelmed? Stressed?
AnxioCalm is clinically studied to quiet your nerves and relieve your occasional anxiety—without drowsiness!*
It's the safe and effective way to help relieve
Occasional anxiety and nervousness
Everyday stresses
Excessive worry*

AnxioCalm is perfect for everyday use, or occasionally when you need extra support. It provides relief when you need it, without drowsiness or mental fogginess.*


Serving Size: 1 Tablet
Servings Per Container: 45
Ingredient
Amount/Serving
Daily
Narrow-leaved Coneflower Echinacea angustifoliae Root Extract (EP107) standardized for proprietary echinacosides and a unique alkamide profile
20 mg
**

---

**Daily Value (DV) Not Established.
Other Ingredients: cellulose powder, lactose (milk), aqueous film coating, croscarmellose sodium, vegetable source magnesium stearate, silica.
No: salt, yeast, wheat, gluten, corn, soy, artificial coloring, artificial flavoring, or artificial preservatives.
Recommendations: 1 tablet twice daily for occasional use. For aggressive support, may take 1 tablet up to 4 times daily. May take at bedtime to support restful sleep.
NON-GMO
Product of Hungary
Developed by Researchers at the Hungarian Academy of Sciences. Budapest, Hungary
U.S. Patent #8,206,762
What makes this ingredient different?
The Echinacea angustifolia (EP107) extract in AnxioCalm is different than other echinacea extracts. It has been specially prepared and is clinically studied to show relief of occasional anxiety.* Both the ingredient and the extract have key attributes that set them apart:
• Plants are grown in rural areas, away from industry and pollution
• Non-GMO
• No synthetic pesticides or herbicides
• Proprietary echinacosides
• Plants are harvested and washed by hand
• Gentle, hexane-free extraction process
• Independent testing confirms purity and absence of heavy metals, pesticides and microorganisms
The dosage seems low to me? Why not simply take more?
In scientific and clinical testing, this specific dosage showed the greatest benefit. For best results, follow the dosage instructions on the product carton.*
Isn't echinacea for the immune system?
It's true that echinacea is usually known for immune support. And, even though millions of people use echinacea for this purpose, the effects of relief of occasional anxiety haven't previously been reported. However, one specific species, Echinacea angustifolia (EP107), grown in controlled conditions and processed using special extraction procedures, produces the amount of plant compounds that reduce occasional anxiety, stress, and nervous tension when taken at the recommended dosage.*
When I am required to do stressful things...
When I am required to do stressful things I no longer have anxious feelings after taking AnxioFit-1 (now AnxioCalm.)
— John
With AnxioFit-1 (now AnxioCalm) I feel like having fun again...
"I have to say that AnxioFit-1 (now AnxioCalm) has changed my whole life as I have known it. I feel so happy and calm. I feel like having fun again. Tell Terry thank you very much for creating a complex that works. And they really are fast acting."
— Abigail
Thank you for AnxioFit-1! (now AnxioCalm)
"I love your AnxioFit-1 (now AnxioCalm) tablets."
— Lisa
Since I have been taking AnxioFit-1 (now AnxioCalm) I no longer...
"Since I have been taking AnxioFit-1 (now AnxioCalm) I no longer have unpleasant, fearful thoughts."
— Kathy
My son has been taking your Anxiofit-1 (now AnxioCalm) for two weeks
"I want to tell you that my 19 year old son has been taking your Anixo-fit-1 (now AnxioCalm) for 2 weeks now. He is away at college and experiences a great deal of anxiety. It's working! My son says he is much less anxious and he's able to focus much better when doing his homework.
THANK YOU TERRY!"
— Barbara
My 97 year old father-in-law no longer has anxious feelings...
"My 97 year old father-in-law no longer has anxious feelings, he does not stress about his day. He is much easier to care for and he can deal with daily activities since taking AnxioFit-1 (now AnxioCalm.)
— Sandy