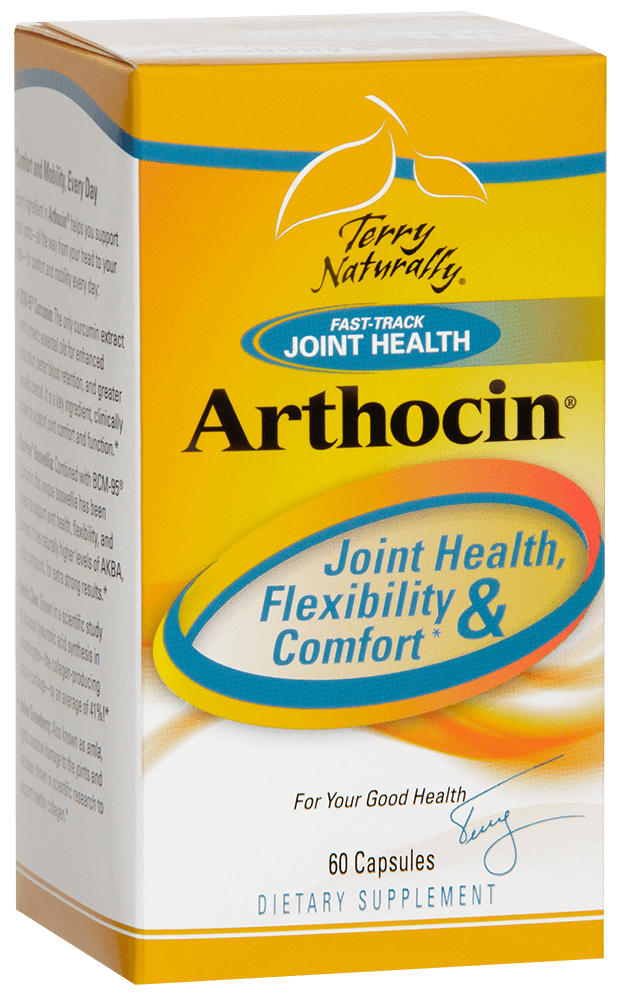 Arthocin®
Supports Joint Health, Flexibility, and Comfort*
Arthocin® is a proprietary formula that supports joint health and cartilage formation for mobility and comfort.*
Supports healthy cartilage structure
Optimizes comfort and mobility in joints
In a scientific study, Devil's Claw extract increased hyaluronic acid synthesis in chondrocytes by 41%; hyaluronic acid is critical for joint lubrication*
Clinically studied Curcumin absorbed up to 10 times better than standard 95% curcumin for more potent biological effects

Arthocin® and Curamin® can be combined for optimal results.
Serving Size: 2 Capsules
Servings Per Container: 30
Ingredient
Amount/Serving
Daily
Proprietary Formula
1,050 mg
**

Containing Boswellia (Boswellia serrata) Gum Resin Extract (BosPure®) standardized to contain >70% Total Organic and Boswellic Acids with AKBA >10%, with less than 5% beta-boswellic acids, Curcumin (Curcuma longa) Rhizome Extract (BCM-95®) enhanced with turmeric essential oils and standardized for curcuminoid complex (curcumin, demethoxycurcumin and bisdemethoxycurcumin), Devil's Claw (Harpagophytum procumbens) Root Extract standardized to contain ≥ 20% harpagosides, Indian Gooseberry (Emblica officinalis) Fruit Extract (25:1) standardized to contain ≥ 35% polyphenol content

---

**Daily Value Not Established
Other Ingredients: hydroxypropyl methylcellulose (vegetable cellulose capsules), cellulose powder, silicon dioxide, vegetable source magnesium stearate.
No: sugar, salt, yeast, wheat, gluten, corn, soy, dairy products, artificial coloring, artificial flavoring, or artificial preservatives.
Recommendations: 1 to 2 capsules daily, may increase if desired.
All ingredients established in human studies for safety and effectiveness.
Does not interfere with stomach, liver or kidney function.

VEGAN
NON-GMO

If pregnant or nursing, consult a healthcare practitioner before using.

BosPure® and BCM-95® are registered trademarks of Dolcas-Biotech, LLC.
What makes the BosPure in Curamin different from unstandardized boswellia extracts?
BosPure® Boswellia is uniquely standardized to provide more AKBA and virtually no pro-inflammatory beta-boswellic acid. Some unstandardized boswellia extracts can have up to 15-25% beta-boswellic acids!
What is the difference between Arthocin and Dyflaminol?
The combination and level of ingredients in Arthocin—especially given its high levels of Devil's Claw and Indian Gooseberry—is really intended to support joint structure including cartilage, collagen and lubrication.* Dyflaminol is an excellent all-purpose supplement to support more immediate benefits. You can combine Arthocin with Dyflaminol, or our premier product, Curamin.
How does the BCM-95 curcumin in Arthocin compare to other curcumin and turmeric products?
The proper product comparison is curcumin to curcumin. However, since many companies are comparing their curcumin absorption to turmeric, we provide this information as a service to our customers.
Plain curcumin 95% compared to turmeric delivers up to 50 times the curcumin as the same amount of turmeric.
BCM-95® Curcumin has been proven to deliver up to 10 times more curcumin into the bloodstream as the same amount of plain curcumin.
Therefore, when compared gram per gram, BCM-95® Curcumin delivers up to 10 times more curcumin than plain curcumin 95% and up to 500 times more curcumin than that found in an equal amount of turmeric.
Can Arthocin be taken with Curamin?
Yes, both Arthocin and Curamin can be used together. Curamin is an excellent formula for providing immediate benefits, and Arthocin can be used long-term for daily maintenance.
The Quality Cannot be Beat
I currently take Bone-Sil, OsteoStrong, Arthocin and Healthy Ligaments & Tendons supplements. My friend convinced me to try your products and I am now a convert for life. Your products are very high quality and well worth the price. I now take a lot of Terry Naturally brand products. The quality cannot be beat. You get what you pay for and I believe Terry Naturally products are high quality and have a lot of integrity. Thank you for making a wonderful product!
— Patricia E.
My mother-in-law loves your Curamin and Arthocin.
My mother-in-law loves your Curamin and Arthocin.
— Geoff
Glad I finally found Curamin Extra Strength
After going through many expensive supplements, I tried Curamin Extra Strength. I am also supplementing with Arthocin and Healthy Ligaments & Tendons. I have been using this combination for almost a month and can't believe how good my knees feel. I am glad that I finally found your products.
— Rosemary B.