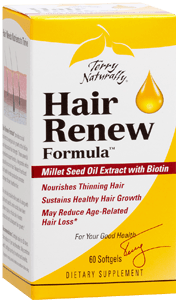 Hair Renew Formula™
Millet Seed Oil Extract with Biotin
Nourishes Thinning Hair • Sustains Healthy Hair Growth • May Reduce Age-Related Hair Loss*
Unlike shampoos and conditioners, which may only temporarily improve the outward appearance of your hair, Hair Renew Formula™ provides a balance of nutrients to support hair from the inside. Millet Seed Oil Extract—a unique, clinically studied botanical that supports production of keratin, the main hair building block.*

Biotin—is essential in the renewal process of the follicles and roots of the hair that are already growing. Supporting healthy hair growth can result in thicker, more lustrous hair.*

B Vitamins—supports energy production in the fast-growing cells in hair follicles that are required for structural support.*

Zinc—shown to improve hair quality, especially dry, brittle hair.*

These components, along with other key ingredients in Hair Renew Formula™, combine to provide maximum nutrient support for healthy hair growth.*
Product of Belgium
Serving Size: 2 Softgels
Servings Per Container: 30
Ingredient
Amount/Serving
Daily
Vitamin A (as retinyl palmitate)
4,000 IU
80%
Vitamin E (as natural mixed tocopherols)
45 IU
150%
Riboflavin (as Vitamin B2)
4 mg
235%
Vitamin B6 (as pyridoxal-5-phosphate)
20 mg
1,000%
Folic Acid
400 mcg
100%
Biotin
5,000 mcg
1,667%
Pantothenic Acid (Vitamin B5) (as calcium pantothenate)
20 mg
200%
Zinc (from zinc gluconate)
10 mg
67%
Millet (Panicum miliaceum) Seed Oil CO2 Extract
400 mg
**

standardized to contain ≥ 4 mg of miliacin

Horsetail (Equisetum arvense) Aerial Extract
100 mg
**

standardized to deliver ≥ 7 mg of silica

L-Cysteine
100 mg
**
L-Methionine
100 mg
**

---

** Daily Value (DV) not established
Other Ingredients: sunflower seed oil, gelatin, lecithin, glycerol, beeswax, purified water, titanium dioxide, iron oxide. Contains Soy (less than 5 parts per million)†
No: sugar, salt, yeast, wheat, gluten, corn, dairy products, artificial coloring, artificial flavoring or artificial preservatives.
Recommendations: 2 softgels daily for 30 days, then reduce to 1 per day thereafter. May continue with 2 softgels per day for enhanced benefits.
If pregnant or nursing, consult a healthcare practitioner before using.
† All EuroPharma products are actually free of soy. We list "contains soy" if a formula contains phospholipids, nattokinase and vitamin K2 which are extracted from soy. The chance of these healthy ingredients causing a risk of allergies is extremely low or non-existent. They contain a possible soy content in parts per million. However, for the safety and comfort of our customers, we provide soy information.
How much should I use?
That depends on your situation. For healthy hair, we recommend 2 softgels daily. For more advanced needs, you can boost that to 2 softgels twice daily, and for serious hair concerns, consider 2 softgels three times daily.
How does hair grow?
Hair is composed of keratin, a special protein that is also found in skin and nails. Each hair, contained in a follicle, goes through regular cycles of growth and rest. Scalp hair grows about ½ inch per month. The typical person loses about 50-100 hairs every day. Most people do not associate hair and its growth as part of a living structure of the body. For hair to grow and have the outward appearance of thick, shiny and lustrous hair, it too needs nutrients that are critical for healthy hair. We have come to believe that to have beautiful hair we only have to treat our hair with shampoos, conditioners and cosmetic products to improve the quality of our hair. While certainly high quality hair products are important to improve the shine and look of our hair, they can never effectively nourish the hair root and shaft for new hair growth and quality.
My "old lady hair" has completely transformed...
I wanted to tell you that my "old lady hair" has completely transformed since using the Hair Renew Formula. I used the double dose for at least 10-12 days and now take 1 twice a day. People are commenting on how nice it looks. I am being more gentle with it and trying to skip washing it once or twice a week which I don't like doing but it helps.
Once a week i put about a half teaspoon of coconut oil in my palms and rub together, then massage into the ends and wash it out the next morning. That day of the week it always styles better and looks really nice.
Please let Terry know that he always comes through where it matters the most and we really appreciate it.
— Jane T.