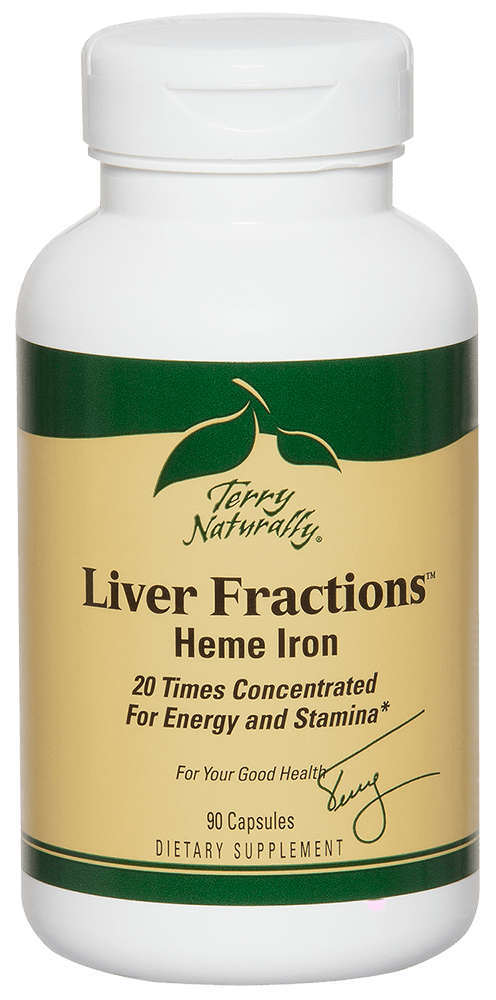 Liver Fractions™
Heme Iron
20 Times Concentrated For Energy and Stamina*
Featuring a superior source of iron and other blood building nutrients, Liver Fractions™ delivers a source of iron bound to hemoglobin (heme iron) that is absorbed up to 33% greater than non-heme iron.
The predigested and concentrated beef liver concentrate in Liver Fractions is from animals raised in Argentina without the use of chemical sprays, pesticides or antibiotics. It takes 20 lbs. of liver to make 1 lb. of high-potency extract. Free of fat and cholesterol. The unique liver fractions are non-toxic and non-constipating.*
Serving Size: 2 Capsules
Servings Per Container: 45
Ingredient
Amount/Serving
Daily
Folate (as (6S)-5-methylfolate)(equivalent to 400 mcg of(6S)-5-Methyltetrahydrofolic acid, glucosamine salt)
200 mcg
50%
Vitamin B12 (methylcobalamin)
1,000 mcg
16,660%
Liver Fractions
1,300 mg
**

(from predigested liver concentrate, containing natural heme iron)

---

**Daily Value (DV) Not Established.
† US Patent No. 7,947,662
Other Ingredients: gelatin capsule, cellulose powder, silica, vegetable source magnesium stearate.
No: sugar, salt, yeast, wheat, gluten, corn, soy, artificial coloring, artificial flavoring, or artificial preservatives.
Recommendations: 2 capsules, twice daily.
NON-GMO
If pregnant or nursing, consult a healthcare practitioner before using.
Is this okay for women to take who are pregnant or nursing?
Yes. This is an excellent product for women who are pregnant. The folic acid, B12 and heme iron will help replace nutrients for the mother and can help support a healthy pregnancy. However, we always recommend that you check with your licensed healthcare practitioner before adding any supplement to your regimen when pregnant or nursing.
What is the source of the liver used in Liver Fractions?
The source of liver in Liver Fractions is from range-fed (versus feed-lot) beef cattle raised in the grasslands of Argentina. Argentina is one of the world's premier sources of beef, and it is from those cattle that we procure the liver we use in Liver Fractions. The beef cattle are raised without the use of any chemicals, pesticides, or antibiotics.