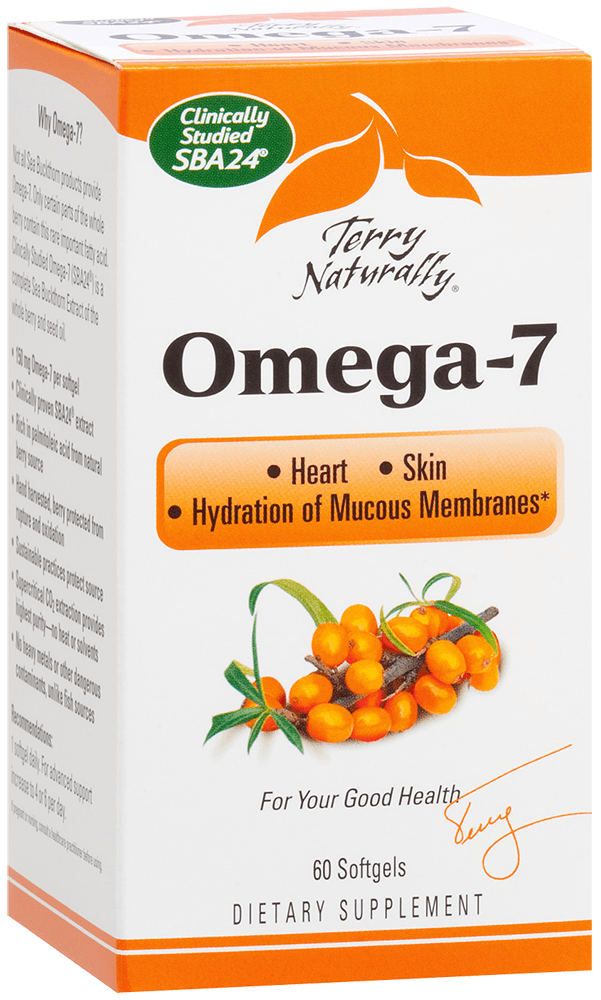 Omega-7
Heart • Skin • Hydration of Mucous Membranes*
Clinically Studied SBA24®
Omega-7 Sea Buckthorn—SUPERIOR SUPPORT
• Strong blood vessels and healthy circulation
• Heart function
• Healthy cholesterol balance††
• Mucous membrane hydration—eye, mouth, digestive system
• Relief of menopausal vaginal dryness
• Smooth, hydrated skin—relieves dryness by up to 48%*
Why Omega-7?
Not all Sea Buckthorn products provide Omega-7. Only certain parts of the whole berry contain this rare important fatty acid. Clinically Studied Omega-7 (SBA24) is a complete Sea Buckthorn Extract of the whole berry and seed oil.

• 150 mg Omega-7 per softgel
• Clinically proven SBA24 extract
• Features palmitoleic acid from the berry
• Hand harvested, berry protected from rupture and oxidation
• Sustainable practices protect source
• Supercritical CO2 extraction provides highest purity—no heat or solvents
• No heavy metals or other dangerous contaminants, unlike fish sources of omega-7
†† Supports healthy cholesterol levels already within normal limits
Serving Size: 1 Softgel
Servings Per Container: 60
Ingredient
Amount/Serving
Daily
Calories
5
Calories from Fat
>5
Total Fat
0.5 g
< 1%†
Sea Buckthorn
500 mg
**

(Hippophae rhamnoides) Oil (SBA24®) containing:
Omega-7 150 mg
Omega-9 90 mg
Omega-6 85 mg
Omega-3 65 mg
And providing phytosterols, tocopherols, tocotrienols, and carotenoids; oil extracted in a standardized ratio of sea buckthorn berry pulp oil and seed oil via supercritical CO2 extraction technology

---

**Daily Value (DV) Not Established.
Other Ingredients: vegetable capsule (corn starch, glycerol, carrageenan, disodium phosphate), sunflower oil, rosemary oil.
No: sugar, salt, yeast, wheat, gluten, soy, dairy products, artificial coloring, artificial flavoring, or artificial preservatives.
Recommendations: 1 softgel daily. For advanced support, may take up to 6 times daily.
GLUTEN FREE
VEGAN
NON-GMO
If pregnant or nursing, consult a healthcare practitioner before using.
Product of Finland
† Percent Daily Values based on a 2,000 calorie diet
†† Support of cholesterol levels already in normal limits
What is supercritical CO2 extraction?
Many supplemental ingredients are produced using harsh solvents such as hexane to separate the extract from the plant material in order to concentrate its benefits. Supercritical CO2 extraction uses a different method. While this method is not perfect for all types of plant extracts, it is superlative for sea buckthorn.

It uses carbon dioxide in liquid form, which is odorless, tasteless, and non-toxic. Oils in plants that are extracted using this method contain no heavy metals, are pure and safe, provide no base for germ growth, and need no preservation. Supercritical CO2 extraction works at very low temperatures, preserves sensitive plant constituents, and avoids the risk of biologically active components being destroyed by oxidation. CO2 extracts are authentic and highly concentrated, and offer the user the highest level of key active constituents found in sea buckthorn.
What makes sea buckthorn such an expensive ingredient?
Sea buckthorn berries are difficult to harvest. They must be removed from shrub-like trees covered in thorns. As a shortcut, some companies actually cut down the shrubs, freeze the branches, and shake them to make the frozen berries fall off. This is a poor choice for two reasons. Freezing and then shaking off the berries damages them and yields a poor quality, low nutrient extract. Cutting down the shrub as a harvesting method is not a sustainable practice. All of the sea buckthorn berries in Omega-7 are hand-harvested. This is labor intensive, and thus more expensive, but well worth it. It ensures that the plants survive to produce a crop year after year and allows us to offer a highly potent and effective product.