New Study Finds HRG80™ Red Ginseng Improves Brain Function for People Under Stress
A new clinical trial, published in March 2020 in Pharmaceuticals, shows that a special preparation of Panax ginseng known as HRG80 quickly and significantly improves memory, attention, and stress levels more effectively than standard ginseng or placebo. Even a single dose of HRG80, the key ingredient in Terry Naturally® brand HRG80 Red Ginseng Energy and HRG80 Red Ginseng Male Sexual Enhancement, brought substantial improvements to fatigued, healthy adults in high-stress jobs.
High levels of ongoing stress take an enormous toll on the body, including the brain. Numerous studies show that chronic stress can trigger mental fatigue and interfere with memory, concentration, and attention. It reduces the ability to perform and complete mental tasks, which can negatively affect work performance. High-pressure jobs that demand acute mental focus can increase stress, setting off a cycle of declining performance and increasing stress levels. In this clinical trial, researchers discovered a highly effective way to break that cycle, reduce stress, and improve memory and attention.
The researchers conducted a randomized, double-blind, placebo-controlled crossover pilot trial with 50 healthy adults working high-stress jobs and experiencing fatigue. These professionals were permanently overloaded with cognitive tasks and constantly exposed to social stress. Each subject participated in all three two-week arms of the trial, which included two daily doses of either a hydroponically cultivated red Panax ginseng Meyer root preparation (HRG80), a traditional six-year-old white Panax ginseng standard preparation, or a placebo. Outcomes were measured using:
d2 test for speed and accuracy on mental tasks
computerized memory test
perceived stress score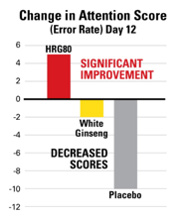 On day one, participants were tested first thing in the morning and again at the end of a stressful workday. The d2 error rate increased by 11 errors with placebo but decreased by 5 errors with HRG80 on the first day. Performance while taking HRG80 improved even further by day 5. The standard preparation of ginseng worked slightly better than placebo, but not nearly as effectively as the HRG80.
This pilot trial clearly demonstrated the superior effectiveness of HRG80, the key ingredient in Terry Naturally brand HRG80 Red Ginseng Energy, for reducing stress and stress-related cognitive slowdown in over-stressed adults.
###############
EuroPharma, Inc., maker of the Terry Naturally® brand, offers clinically proven and effective nutritional supplements that improve the health of America. Terry Lemerond, founder and president of EuroPharma, is well-known for innovation, and is credited as the first to introduce glucosamine sulfate and standardized Ginkgo biloba to the U.S. natural products market. Some of his current exclusive products include Curamin®, winner of 28 awards for pain relief; CuraMed®, containing the most clinically studied enhanced absorption curcumin in the world, with beneficial turmeric oil with turmerones, and the #1 product in its category according to SPINS data*; SagaPro® for bladder health; Vectomega® full-spectrum omega-3 salmon extract; Traumaplant® Comfrey Cream; and Clinical OPC® tannin-free French grape seed extract. The full line of products is available throughout the U.S. in both the health food store and professional distribution channels. At EuroPharma, Our Passion is Your Health®.
^SPINScan Other Herbal Formulas, Total US—Natural Channel, 52 wk Data Ending 2/23/2020