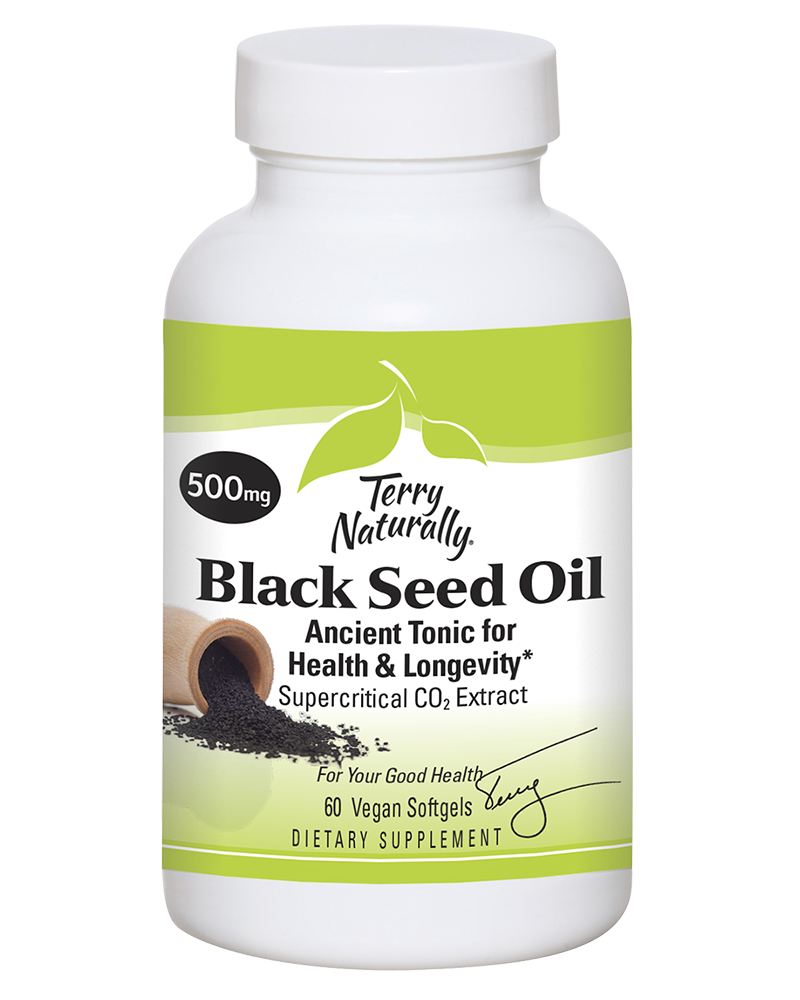 Black Seed Oil
Ancient Tonic for Health & Longevity*
Supercritical CO2 Extract
SKU 14256 | 60 Vegan Softgels
Traditionally, Nigella sativa—better known as black cumin—was seen as the answer to almost every health question. Now this ancient treasure is yours, delivered in supercritical CO2 extract for consistency and purity, every time. 
Black Seed Oil from Terry Naturally contains the compounds recognized as the herb's most potent, including thymoquinone, which shows dramatic support for a broad spectrum of critical health factors, including:
Healthy joints and mobility
Concentration and focus
Nervous system function
Heart and healthy blood pressure levels†
Healthy liver, prostate, breast, kidney, and thyroid
Stomach and digestive tract health
Proper cellular development and DNA replication
Robust immune defenses*

† Supports healthy blood pressure levels already within normal range.
Supplement Facts
Ingredient
Amount/Serving
Daily Value
Organic Black Cumin
500 mg
**

(Nigella sativa) Seed CO2 extracted Oil standardized to ≥ 3% Thymoquinone

---

** Daily Value (DV) not established
Terry Naturally brand products contain natural and other premium ingredients.
Why is supercritical CO2 extraction important?
Supercritical CO2, meaning carbon dioxide in a liquid form, is a special type of non-toxic solvent that is particularly good for extracting essential oils without damaging them or causing them to become rancid through oxidation. Supercritical CO2 extract is the preferred method for obtaining a full spectrum essential oil extract, discarding the non-essential fibrous plant material. This process is a cold extraction that uses no heat. Supercritical CO2 yields a very pure extract, with no heavy metals or potential for bacterial growth. Because it evaporates completely there is also no concern about contamination or residue left in the extracted materials.
What plant is black seed oil from?
The plant that supplies black seed oil, Nigella sativa, is commonly known as black cumin, and has been used in traditional medicine in the Middle East and Asia. More recently, research has focused on compounds found in the oil of the seeds, which show a wide spectrum of benefits.
What compound in black seed oil is considered most beneficial?
While black seed oil, like most botanicals, contains a host of beneficial compounds, thymoquinone is considered one of the most important in scientific research and clinical trials. It appears to be the compound most responsible for the oil's support of optimum health.*