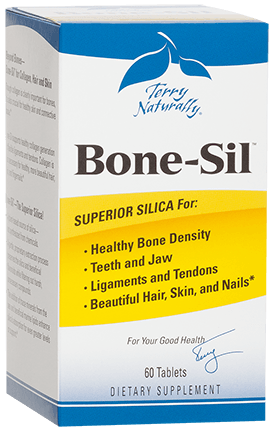 Bone-Sil™
SUPERIOR SILICA for:
• Healthy Bone Density
• Teeth and Jaw
• Ligaments and Tendons
• Beautiful Hair, Skin, and Nails*
Bones are Living Tissue—They Need Silica!
Silica is required for healthy collagen and connective tissue, which form the foundation for bones, tendons, ligaments, teeth, skin, hair and nails. But silica—like many minerals—is difficult to get from diet alone.

Bone-Sil provides silica, a critical trace mineral that supports bone health and bone density. Silica is necessary for the utilization of calcium to maintain healthy, strong bones.*
Bone-Sil: The Superior Silica!
A plant-based source of silica—not synthesized from chemicals.
A gentle, proprietary extraction process preserves the silica and beneficial flavonoids while filtering out harsh, unnecessary compounds.
The addition of trace minerals from the sea and healthy marine lipids enhance silica's absorption for even greater bone support.*
Supplement Facts
Serving Size:2 Tablets
Servings Per Container:30
Ingredient
Amount/Serving
Daily Value
Vitamin D3 (cholecalciferol)
200 IU
50%
Horsetail
800 mg
**

(Equisetum arvense) Aerial Extract standardized to 20 mg of Silica, with naturally occurring flavonoids

---

**Daily Value (DV) Not Established
Other Ingredients:tricalcium phosphate, magnesium hydroxide, silica, marine (shark oil) lipids, vegetable source magnesium stearate, hydroxypropyl methylcellulose, trace minerals (from the sea), titanium dioxide, stearic acid, microcrystalline cellulose, chlorophyll coatin
No:sugar, salt, yeast, wheat, gluten, corn, soy, dairy products, artificial coloring, artificial flavoring, or artificial preservatives.
Recommendations:1-2 tablets daily; for enhanced benefits may increase to 2 tablets three times daily for 2 weeks, then reduce to 1-2 tablets daily thereafter.
If pregnant or nursing, consult a healthcare practitioner before using.
NON-GMO
Can't I get silica from food?
Certainly, there are food sources, but very little of that silica is absorbed during digestion. In fact, you'd probably have to eat 50 bananas just to get about 8 mg of absorbed silica. So a supplemental source is a must. In fact, in Europe, silica actually outsells calcium for bone support.*
Is the use of Bone-Sil supported by research?
Yes. In a randomized, double blind, placebo controlled study of 65 women over 12 months revealed that Bone-Sil supported bone health and strength, and that Bone-Sil supported a healthy balance of minerals in bone. Another Bone-Sil study with 150 individuals showed support for healthy bone-building activity. Doctors reported that in 80% of participants, significant indicators of bone health support were evident after 15 days of use, and further gains were measurable after 6 weeks of use.*
I'm active again with Bone-Sil
I am a 72 year old, trim lady and have always been very active until I suffered a ligament strain while kayaking. I was introduced to Bone-Sil (previously Trica-Sil) and within two weeks there was improvement. Four months have passed and I am now active bicycling and dancing again thanks to this product and my chiropractor. I love your products and use a number of other ones as well.
— Marilyn L.
The Quality Cannot be Beat
I currently take Bone-Sil, OsteoStrong, Arthocin and Healthy Ligaments & Tendons supplements. My friend convinced me to try your products and I am now a convert for life. Your products are very high quality and well worth the price. I now take a lot of Terry Naturally brand products. The quality cannot be beat. You get what you pay for and I believe Terry Naturally products are high quality and have a lot of integrity. Thank you for making a wonderful product!
— Patricia E.