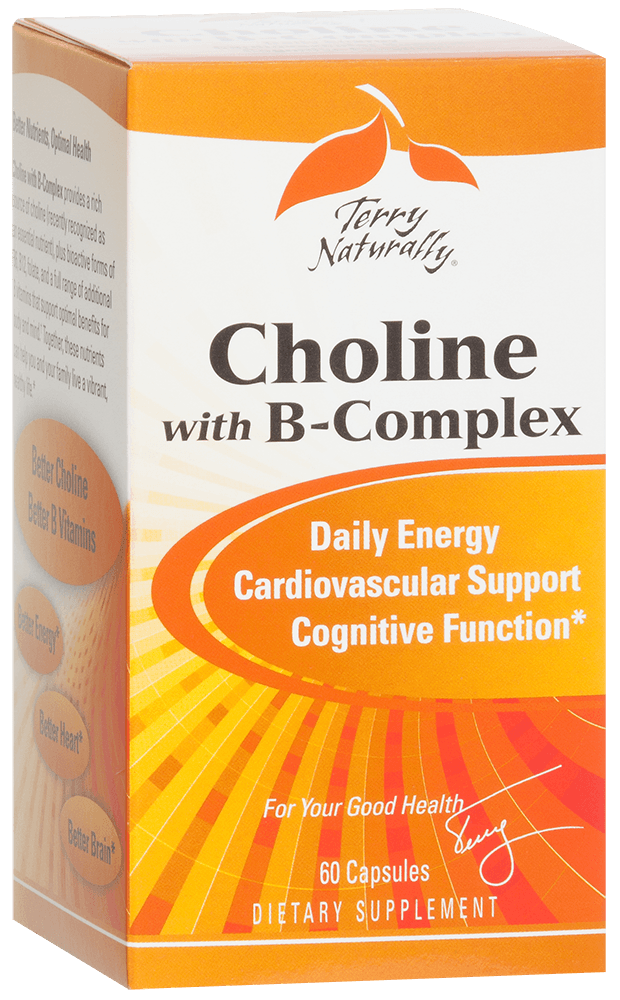 Choline with B-Complex
Daily Energy
Cardiovascular Support
Cognitive Function*
Choline plays a critical role in health maintenance, but more than 90 percent of adults don't get optimal amounts of choline from food. That's where Choline with B-Complex comes in.
Choline with B-Complex provides the active forms of choline and B vitamins for the greatest benefits.
Daily energy levels
Mental focus and clarity
Healthy blood pressure and cholesterol balance††
Essential liver function
Stress and fatigue reduction
Essential prenatal nutrition
Cognitive development
Athletic endurance and muscle recovery
Helps restore levels of this essential nutrient that may be depleted by anticholinergic drugs or other prescription medication*

Essential Choline
In 1998, the Institutes of Medicine recognized choline as an essential nutrient. The body uses choline in many complex ways:
For the synthesis of neurotransmitters, especially acetylcholine
As a critical building block of cell walls
To facilitate cell signaling
To regulate homocysteine
For lipid metabolism and liver function*

Better Nutrients, Optimal Health
Because choline and B vitamins often work synergistically in the body, Choline with B-Complex provides a rich source of choline plus bioactive forms of B6, B12, folate, and a full range of additional B vitamins.† Together, these nutrients provide for a vibrant, healthy life.*
† Contains (144 mg) choline per serving, which is (26%) of the Daily Value for choline (550 mg).
†† Supports healthy levels already within normal range
Serving Size: 1 Capsule
Servings Per Container: 60
Ingredient
Amount/Serving
Daily
Thiamin (B1) (from Thiamine HCl)
25 mg
2,083%
Riboflavin (Vitamin B2)
25 mg
1,923%
Niacin (from Inositol Hexanicotinate)
25 mg
156%
Vitamin B6 (from Pyridoxal-5-Phosphate)
25 mg
1,471%
Folate
250 mcg DFE
63%

(from (6S)-5-methylfolate) (equivalent to 500 mcg of (6S)-5-Methyltetrahydrofolic acid, glucosamine salt)


Vitamin B12 (as Methylcobalamin)
1,000 mcg
41,667%
Pantothenic Acid (from d-Calcium Pantothenate)
100 mg
2,000%
Choline (from Choline Bitartrate)
144 mg
26%
Calcium
30 mg
2%

(from d-Calcium Pantothenate and dicalcium phosphate)

---

**Daily Value (DV) Not Established
Other Ingredients: hydroxypropyl methylcellulose (vegetable cellulose capsules), organic rice concentrate, soybean oil, silica. Contains Soy (less than 5 parts per million)
No: sugar, salt, yeast, wheat, gluten, corn, dairy products, artificial coloring, artificial flavoring, or artificial preservatives.
Recommendations: Take 1 capsule 3 times a day.
VEGAN


Is Choline with B-Complex safe for women who are pregnant or nursing?
Yes. In fact, women who are pregnant or nursing have higher choline needs because of the role it plays in cellular and neuron development in the fetus. Prenatal choline use may have a significant impact on learning, memory, and attention span in children. Additionally, maternal choline intake supports neural tube development in the fetus. Of course, choline is also necessary to the health of pregnant women themselves because it is depleted during and immediately after their pregnancy.*
Who doesnt get enough choline from food?
Nearly everyone, but some people are particularly at risk—either because their diets are low in choline or because they have a greater need for choline. Foods that are high in choline include beef liver, wheat germ, egg yolks, beef, seafood, chicken, cruciferous vegetables, and some legumes. Because many vegetables are not good sources of choline, vegetarians and vegans are especially at risk for inadequate choline levels. Researchers are also learning that some people—as much as half of the population—may have genetic traits that increase their choline requirements. In addition, pregnant and lactating women have higher choline requirements.