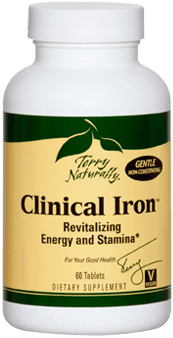 Clinical Iron™
(Formerly Energy + Endurance)
Revitalizing Energy and Stamina*
Gentle, Non-Constipating

Fatigued? Run Down? Clinical Iron™ is the Answer!
Iron plus synergistic minerals for oxygen rich blood cells
Endurance and stamina*
Easily absorbed, stomach-friendly formula
Serving Size: 2 Tablets
Servings Per Container: 30
Ingredient
Amount/Serving
Daily
Iron (from Ferrochel ferrous bisglycinate chelate)
30 mg
167%
Magnesium (from dimagnesium malate)
300 mg
75%
Zinc (from TRAACS zinc bisglycinate chelate)
10 mg
67%
Copper (from TRAACS copper bisglycinate chelate)
2 mg
100%

---

**Daily Value (DV) Not Established
Other Ingredients: microcrystalline cellulose, aqueous film coating (polydextrose, methylcellulose, titanium dioxide, hypromellose, glycerin, riboflavin [for color]), croscarmellose sodium, vegetable source stearic acid, dicalcium phosphate, hydroxypropyl cellulose, silicon
No: sugar, salt, yeast, wheat, gluten, soy, dairy products, artificial coloring, artificial flavoring, or artificial preservatives.
Recommendations: 1-2 tablets daily, or as recommended by your healthcare practitioner.
VEGAN
If pregnant or nursing, consult a health care practitioner before using.
Ferrochel® and TRAACS® are registered trademarks of Albion Laboratories, Inc.
What are chelated minerals and why are they important?
A "chelate" is a bond between a mineral (often called "inorganic") and a molecule structure, called a "ligand" that helps the body absorb the mineral during digestion. The amino acid glycine makes an excellent molecule to help shepherd minerals through the intestinal wall, because it is so small it can be transported directly into the cells of the body, so it can get to work right away.

Clinical Essentials™ provides chelated minerals using The Real Amino Acid Chelate System, known as TRAACS®. These are premium minerals not found in most daily multiples.
Do I really need iron?
Yes! Studies have shown that everyone—women and men—need iron in their diet in order to create healthy red blood cells and muscle tissue, and maintain energy levels. Everybody who is active—or wants to be more so—should have this critical mineral. In fact, people who exercise intensively may have a 30% greater need for iron. If you think you don't need iron, think again. It supports healthy muscle tissue and energy levels, and is essential for those with an active life.*