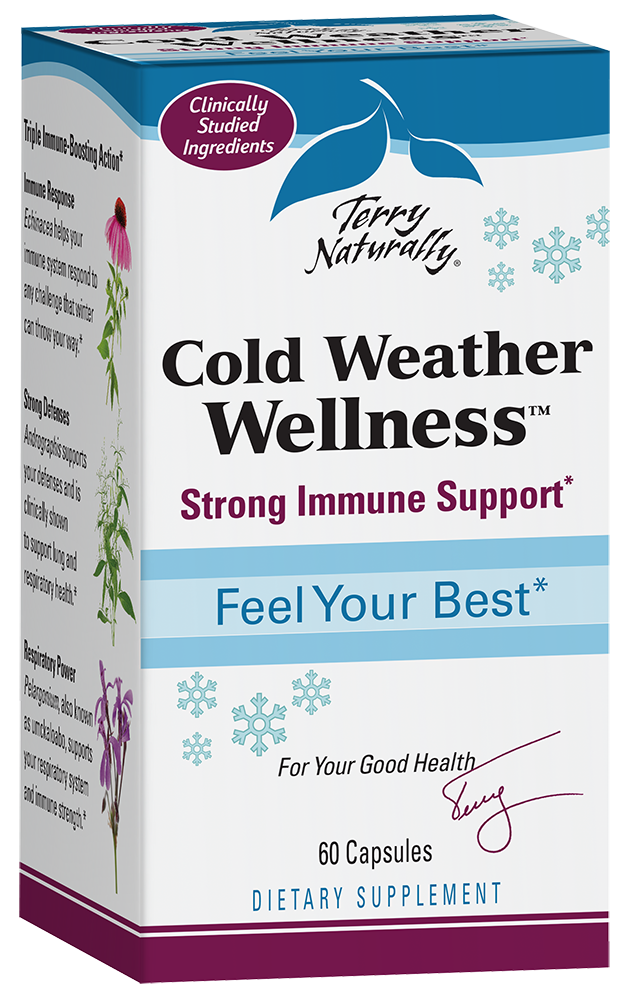 Cold Weather Wellness™
Strong Immune Support*
Cold Weather Wellness delivers clinically studied ingredients that support the body in cold weather so you can feel healthy and vibrant all season long.*
Strengthen immune function
Sinus and bronchial support
Every day resistance*
Great for the whole family

Triple Immune Action from echinacea, andrographis and pelargonium for a strong, healthy immune response.*
If pregnant or nursing, consult a healthcare practitioner before using.
Serving Size: 1 Capsule
Servings Per Container: 60
Ingredient
Amount/Serving
Daily
Proprietary Formula
275 mg
**

Echinacea (Echinacea purpurea) Fresh Pressed Aerial Juice Extract standardized to contain ≥ 2.4% β-1,2-D-Fructofuranosides, Andrographis (Andrographis paniculata) Leaf Extract standardized to contain ≥ 30% andrographolides, Pelargonium (Pelargonium sidoides) Root Extract standardized for ≥ 0.3% umckalin and ≥ 12.5% polyphenols

---

** Daily Value (DV) not established
Other Ingredients: cellulose powder, hydroxypropyl methylcellulose (vegetable cellulose capsules), silica, vegetable source magnesium stearate.
No: sugar, salt, yeast, wheat, gluten, corn, soy, dairy products, artificial coloring, artificial flavoring, or artificial preservatives.
Recommendations: 1 capsule, 3 times daily.
*THESE STATEMENTS HAVE NOT BEEN EVALUATED BY THE FOOD AND DRUG ADMINISTRATION. THIS PRODUCT IS NOT INTENDED TO DIAGNOSE, TREAT, CURE OR PREVENT ANY DISEASE.
If pregnant or nursing, consult a healthcare practitioner before using.
I thought I could only take echinacea for the short term can I really use Cold Weather Wellness every day?
Absolutely. In fact, there is no evidence to show that daily use of echinacea reduces its effectiveness over time. It provides an excellent daily support for your immune system during cold weather or throughout the year.*
Can I only take this supplement in the winter?
You can use Cold Weather Wellness any time of year to support your immune defenses.*
When is the best time to take Cold Weather Wellness?
Take Cold Weather Wellness when you begin noticing a need for immune system support.*