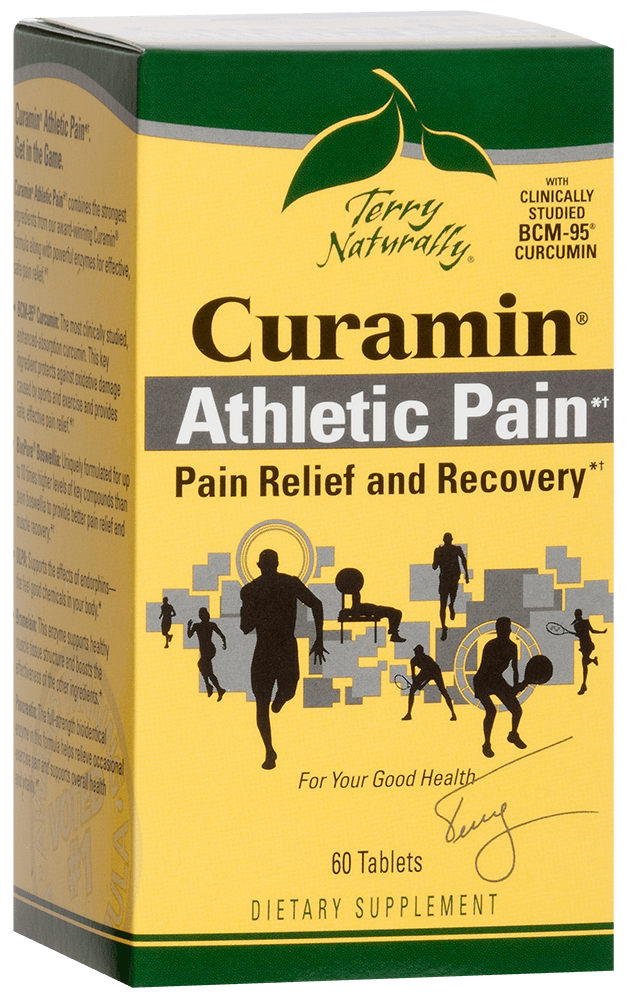 Curamin® Athletic Pain*†
Pain Relief and Recovery*†
Curamin Athletic Pain*† combines the strongest ingredients from our award-winning Curamin formula with powerful enzymes for effective, safe pain relief.*†
Safe, effective pain relief*†
Better muscle recovery*
Physical and mental stamina*
Hormone- and steroid-free

Ingredients that help you be your best:
Curcumin: The most clinically studied, enhanced-absorption curcumin. It is a key ingredient for safe, effective pain relief.*†
Boswellia: Uniquely formulated for up to 10 times higher levels of key compounds than plain boswellia to provide better pain relief and muscle recovery.*†
DLPA: DL-phenylalanine supports the "feel good" hormones in the brain for healthy relief and recovery.*
Bromelain: This enzyme supports muscle tissue structure and boosts the effectiveness of the other ingredients.*
Pancreatin: A favorite of athletes, this enzyme is well-known for its ability to help relieve occasional exercise pain and support overall health and vitality.*†


† Occasional muscle pain due to exercise or overuse
---
View the complete Curamin product line.
Supplement Facts
Serving Size:1 Tablets
Servings Per Container:60
Ingredient
Amount/Serving
Daily Value
Proprietary Complex
1,100 mg
**

DLPA (DL-phenylalanine), Boswellia (Boswellia serrata) Gum Resin Extract (BosPure®) standardized to contain >70% Total Organic and Boswellic Acids with AKBA >10%, with less than 5% beta-boswellic acids, Bromelain, Curcumin (Curcuma longa) Rhizome Extract (BCM-95®) enhanced with turmeric essential oil and standardized for curcuminoid complex (curcumin, demethoxycurcumin and bisdemethoxycurcumin), Pancreatin (porcine source)

---

** Daily Value (DV) not established
Other Ingredients:cellulose powder, stearic acid, silica, vegetable source magnesium stearate, croscarmellose sodium, ethylcellulose.
No:sugar, salt, yeast, wheat, gluten, soy, dairy products, artificial coloring, artificial flavoring, or artificial preservatives. Color variations are normal.
Recommendations:Take 1 tablet 3 times daily, or as needed. For best results, take on an empty stomach (for better enzyme utilization).
NON-GMO

† Occasional muscle pain due to exercise or overuse
BosPure® and BCM-95® are registered trademarks of Dolcas-Biotech, LLC
Why should I take Curamin Athletic Pain*† on an empty stomach?
While Curamin Athletic Pain*† is still effective no matter when it is taken, the enzyme ingredients pancreatin and bromelain work their best when the supplement is taken on an empty stomach.
What is the difference between turmeric, curcumin, and clinically studied curcumin in this product?
Turmeric is the plant that provides curcumin. Typically, turmeric contains about 2-5% curcumin, so taking an unstandardized, powdered turmeric product means that very large amounts would be required to get even a small amount of curcumin.
Additionally, standard curcumin extracts are poorly absorbed from the gastrointestinal tract. That's why clinically studied curcumin blends high-quality curcumin with turmeric oils (turmerones) to enhance absorption. It has greater absorption and longer blood retention time at significant levels capred to both plain curcumin and turmeric.
While turmeric is excellent when used as a spice, the high-absorption curcumin extract used in Curamin Athletic Pain*† is a better choice for health benefits.