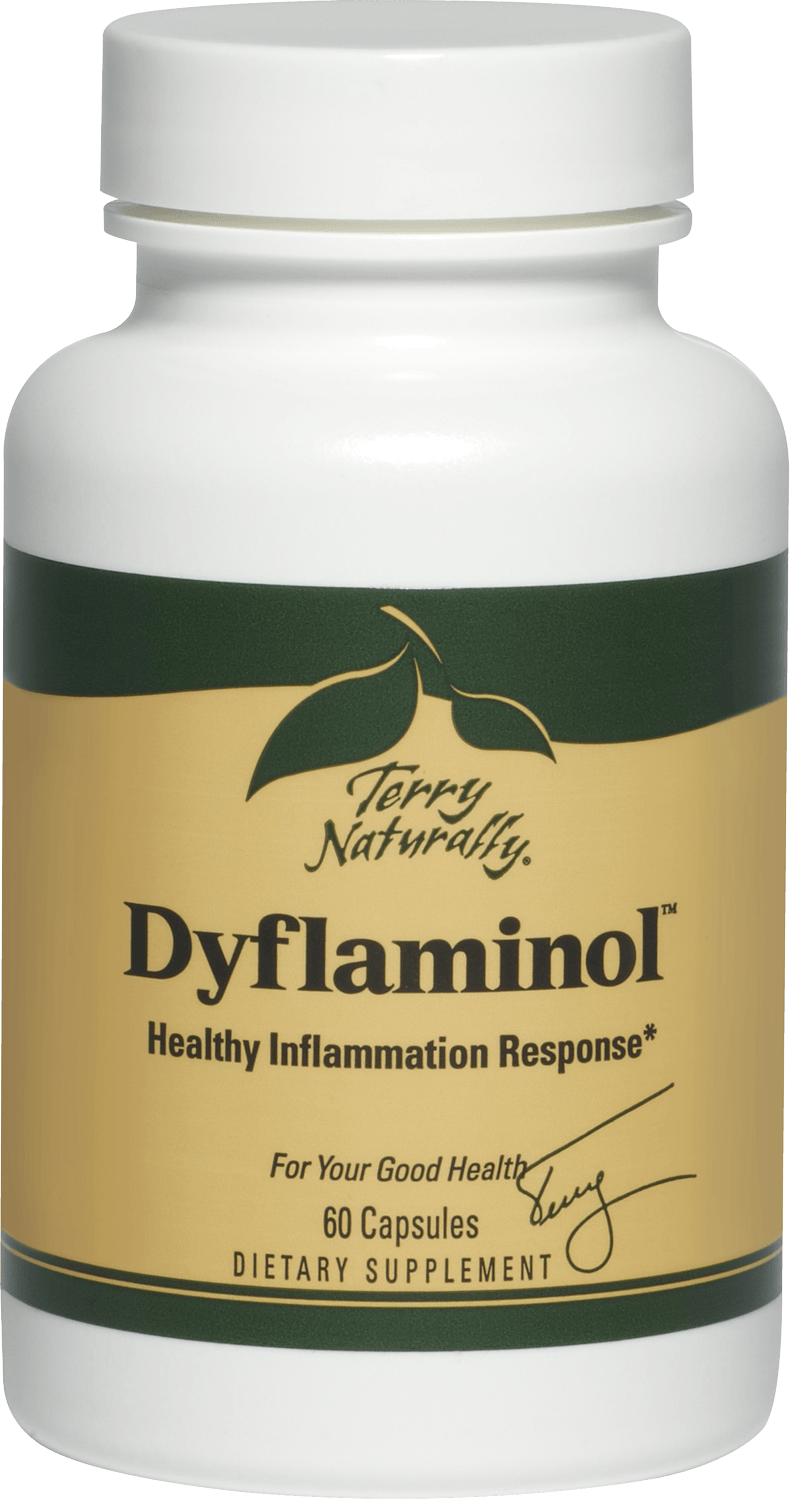 Dyflaminol™
Healthy Inflammation Response*†
Dyflaminol™ combines high absorption curcumin with two potent, standardized herbal extracts—Boswellia and ginger—to provide optimal support throughout the body. DLPA enhances brain endorphin activity, which plays an important role in pain relief.*†

† Relief of occasional muscle pain or inflammation due to exercise or overuse
Supplement Facts
Serving Size:3 Capsules
Servings Per Container:20
Ingredient
Amount/Serving
Daily Value
Proprietary Complex
2,115 mg
**

DLPA (DL-phenylalanine), Boswellia (Boswellia serrata) Gum Resin Extract (BosPure®) standardized to contain >70% Total Organic and Boswellic Acids with AKBA >10%, with less than 5% betaboswellic acids, Curcumin (Curcuma longa) Rhizome Extract (BCM-95®) standardized for curcuminoid complex (curcumin, demethoxycurcumin and bisdemethoxycurcumin), Ginger (Zingiber officinale) Root Extract standardized to contain 5% gingerols

---

**Daily Value (DV) Not Established.
Other Ingredients:hydroxypropyl methylcellulose (vegetable cellulose capsules), silicon dioxide, vegetable source magnesium stearate, cellulose powder.
No:sugar, salt, soy, yeast, wheat, gluten, corn, dairy products, artificial coloring, artificial flavoring or preservatives. Color variations are normal.
Recommendations:Three capsules daily. May take as one capsule three times daily.
VEGAN
If pregnant or nursing, consult a health care practitioner before using.


BosPure® and BCM-95® are registered trademarks of Dolcas-Biotech.
Why is the BosPure® in Dyflaminol screened to reduce beta-boswellic acid?
While most boswellic acids are associated with positive benefits, beta-boswellic acid is pro-inflammatory. Keeping it to less than 5% greatly enhances the effectiveness of BosPure® Boswellia.
Can Dyflaminol and Curamin® be taken together? What would be the benefits?
Dyflaminol and Curamin can be used together, though many consumers choose to use one or the other due to the great similarity of ingredients.
What is the difference between Dyflaminol and Arthocin?
Dyflaminol is an excellent all-purpose supplement to support more immediate benefits. The combination and level of ingredients in Arthocin—especially given its high levels of Devil's Claw and Indian Gooseberry—is intended to support joint structure and lubrication.
How does the BCM-95® curcumin in Dyflaminol compare to other curcumin and turmeric products?
The proper product comparison is curcumin to curcumin. However, since many companies are comparing their curcumin absorption to turmeric, we provide this information as a service to our customers.
• Plain curcumin 95% compared to turmeric delivers 20 to 50 times the curcumin as the same amount of turmeric.
• BCM-95® Curcumin has been proven to deliver 8 to 10 times more curcumin into the bloodstream as the same amount of plain curcumin.
• Therefore, when compared gram per gram, BCM-95® Curcumin delivers 8 to 10 times more curcumin than plain curcumin 95% and 160 to 500 times more curcumin than that found in an equal amount of turmeric.