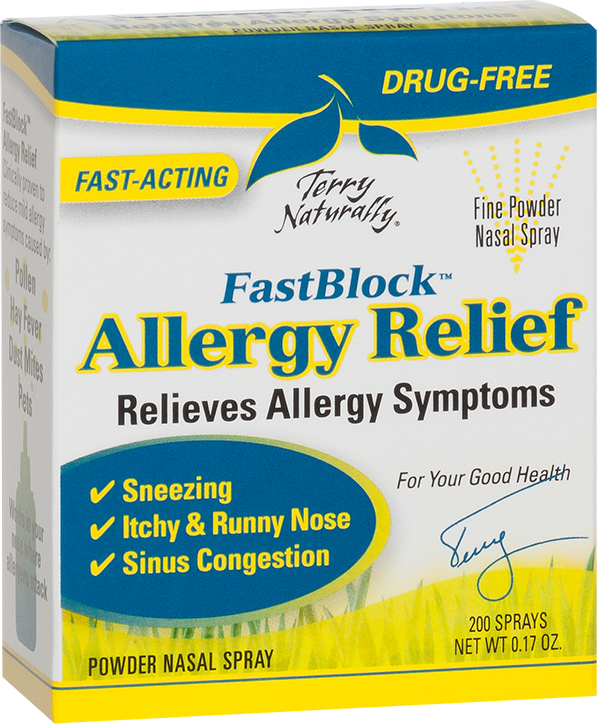 FastBlock® Allergy Relief
Relieves Allergy Symptoms FastBlock® Allergy Relief is a fine-powder nasal spray that coats the allergy receptors in the nasal passages. This forms a protective barrier that blocks airborne allergens such as pollen, dust mites and animal dander—and stops allergies and hay fever where they start.
FastBlock® Allergy Relief is clinically proven to reduce:
• Sneezing
• Itchy & Runny Nose
• Sinus Congestion
Unlike liquid nasal sprays or allergy drugs, FastBlock® Allergy Relief is safe, and does not cause drowsiness, irritate the nasal passages, or cause unpleasant side effects. It is drug-free and non-habit-forming, and is clinically proven to deliver fast, effective protection against hay fever and other airborne allergens.
For nasal use only. Safe for adults, including pregnant and nursing women, and children 12 years or older. For use in younger children please consult a pediatrician.
Ingredients: Cellulose powder of vegetable origin and peppermint powder.

Temporarily relieves these mild allergic symptoms of hay fever and allergic rhinitis: sneezing, itchy nasal passages, runny nose, and sinus congestion.
Directions: Gently blow your nose. While inhaling normally, place tip of dispenser just inside the nostril and firmly squeeze the bottle to distribute powder. Repeat in the other nostril. The smell of peppermint lets you know that you've successfully sprayed it into your nose.


Warnings/Caution: Stop use and consult a healthcare practitioner if symptoms do not improve within 7 days or are accompanied by fever.

Other information: Always replace the cap and store in a cool, dry place. Use within 6 months after opening. Do not use if tamper evident seal on cap is broken or missing. Keep out of reach of children. Keep bottle free from moisture.
---
VEGAN

Mechanical Allergen Particle Barrier Medical Device
Bottle Patent #US 7,465,287
Formula Patent #US 8,202,550
Are there any concerns with interactions using FastBlock® Allergy Relief?
No. FastBlock® Allergy Relief contains no antihistamines, steroids, or any other drug ingredients.
When should I Use FastBlock® Allergy Relief?
Use FastBlock® Allergy Relief as a preventive when pollen counts are high, or as soon as you notice symptoms, or if you know you'll be in an environment with airborne allergens, such as pet dander or dust.
Why does it smell like peppermint when I use FastBlock® Allergy Relief?
The light smell of peppermint lets you know that you've successfully sprayed it into your nose, and that it is going to work to block allergens.
Will FastBlock® Allergy Relief block my nose?
No. The fine powder spray forms a gel-like barrier on the inside of the nostril to block allergens. It will not block the nose or interfere with normal breathing or sense of smell.
How long will a bottle last?
Each bottle contains about 200 sprays. In the clinical studies, participants used 3 sprays daily, which means a bottle would last approximately 66 days. However, you can use the product more or less often per day based on your personal allergy symptoms.
Is this product safe during pregnancy?
Yes. This is not a drug, and is not absorbed by the body. It is safe for use by pregnant and nursing women.
Amazing Product for Allergy Sufferers
My son has suffered seasonal allergies since he was born from end of February thru May. AMAZING is what I would use to describe this product!!! It has changed his life! Now he can play baseball and not suffer being outside. He does not have to miss school so often either! I combine this with Olive Leaf Extract nasal spray a few times a week and it works better other treatments we have tried! Thank you for making such a wonderful product!!
— J T
FastBlock Allergy Relief is now my go-to product for allergies!
After a weekend of working outside in my yard, I arrived at work Monday morning looking like a cartoon character of someone having an allergy attack. My face was swollen, my eyes were swollen, and I was feeling miserable. I grabbed the box of tissues and plopped them by my desk proclaiming, "I'm gonna need these all day." My boss reached on her desk and brought out a bottle of FastBlock and said, "We got this in the mail, try it." So I used the FastBlock and began my day not really sure what to expect. Ten to fifteen minutes later, my face was no longer swollen, my eyes were back to normal, and I was feeling great. FastBlock Allergy Relief is now my go-to product for allergies and has changed my outlook on dealing with Oklahoma's many seasonal allergies.
— Catheryn H.