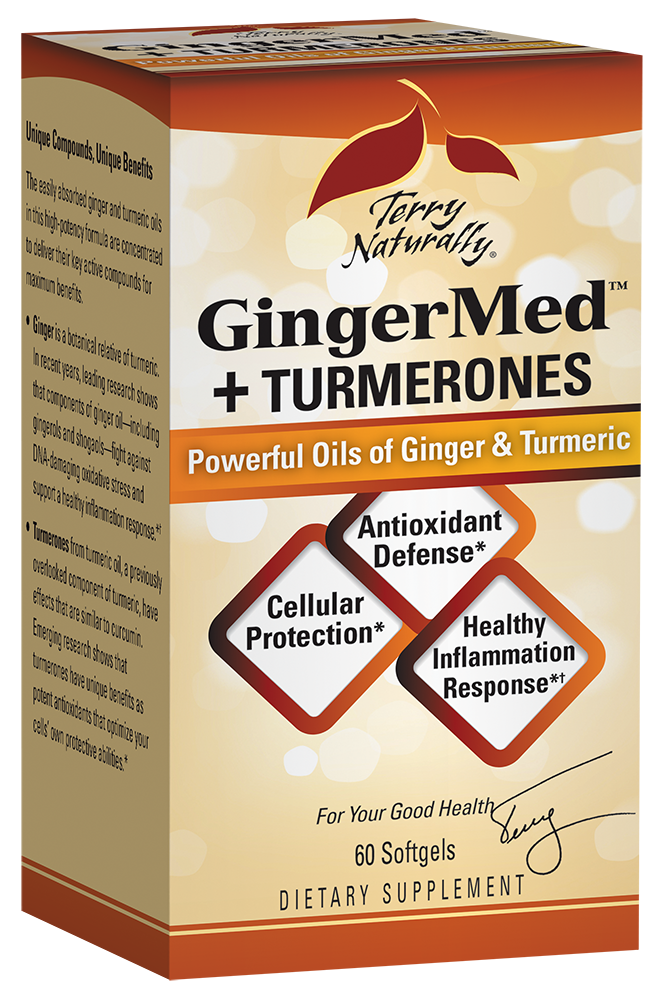 GingerMed™+Turmerones
Powerful Oils of Ginger and Turmeric
Antioxidant Defense*
Cellular Protection*
Healthy Inflammation Response*†
GingerMed + Turmerones provides antioxidant defense with powerful compounds from ginger and turmeric oils. While each ingredient is independently effective, together they are unbeatable.
The ginger and turmeric oils in this high-potency formula are concentrated to deliver their key active compounds for maximum benefits.*
Ginger is a botanical relative of turmeric. In recent years, leading research shows that components of ginger oil—including gingerols and shogaols—support healthy cellular function.*
Turmerones from turmeric oil, a previously overlooked component of turmeric, have effects that are similar to curcumin. Emerging research shows that turmerones have unique benefits as potent antioxidants that optimize your cells' own protective abilities.*
Supplement Facts
Serving Size:1 Softgel
Servings Per Container:60
Ingredient
Amount/Serving
Daily Value
Proprietary Complex
250 mg
**

Ginger (Zingiber officinalis) Rhizome Oil CO2 Extract standardized for ≥ 25% total gingerols and shogaols, Turmeric (Curcuma longa) Rhizome Oil CO2 Extract standardized to ≥ 60% turmerones

---

** Daily Value (DV) not established
Other Ingredients:extra virgin olive oil, gelatin, glycerol, water.
No:sugar, salt, yeast, wheat, gluten, corn, soy, dairy products, artificial flavoring, artificial coloring, or artificial preservatives.
Recommendations:1 softgel daily. May increase as desired.
NON-GMO
† Occasional inflammation due to exercise or overuse
Why turmerones?
Turmerones from the unique CO2-extracted turmeric oil can provide amazing health benefits. Turmerones have been studied for their support of cellular health, and work synergistically with the gingerols and shogaols of the ginger oil in the formula.*
I see that the ginger and turmeric are "supercritical CO2 oils" in this formula. What does "supercritical" mean?
Supercritical CO2, meaning carbon dioxide in a liquid form, is a special type of non-toxic solvent that is particularly good for extracting essential oils without damaging them or causing them to become rancid through oxidation. Supercritical CO2 extract is the preferred method for obtaining a full spectrum essential oil extract, discarding the non-essential fibrous plant material. This process is a cold extraction that uses no heat. Supercritical CO2 yields a very pure extract, with no heavy metals or potential for bacterial growth. Because it evaporates completely there is also no concern about contamination or residue left in the extracted materials.