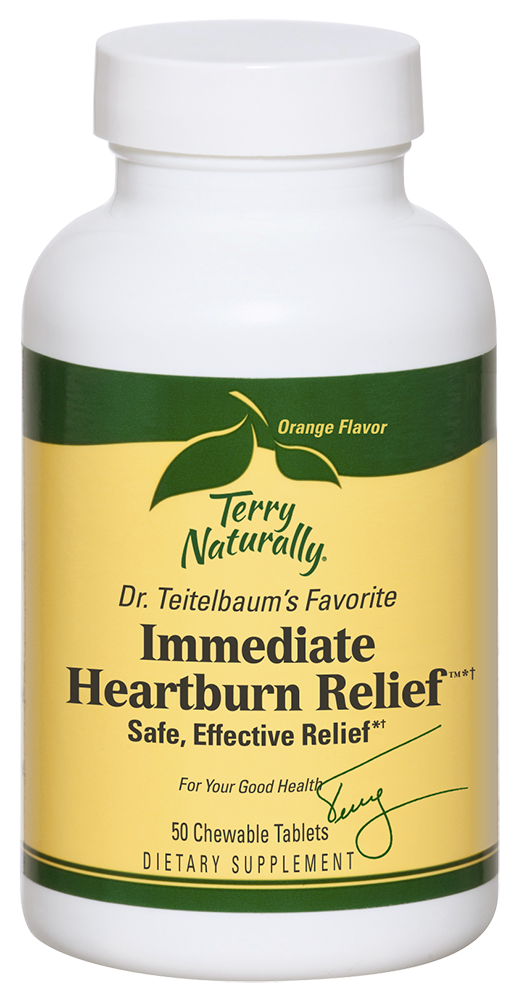 Immediate Heartburn Relief™*†
Safe, Effective Relief*†
• Relief of occasional heartburn
• Temporarily neutralizes gastric acidity
• Heart-healthy blend*

For additional support, also try Advanced Heartburn Rescue™.†
†Relief of occasional heartburn.
Supplement Facts
Serving Size:1 Chewable Tablet
Servings Per Container:50 Chewable Tablets
Ingredient
Amount/Serving
Daily Value
Total Carbohydrate
1 g
<1%
Total Sugars
Less than 1 g
Vitamin D3 (as cholecalciferol)
250 IU
63%
Vitamin K (as phytonadione)
20 mcg
25%
Calcium (from calcium carbonate)
108 mg
11%
Magnesium (from magnesium oxide)
100 mg
25%

---

** Percent Daily Values based on a 2,000 calorie diet
Other Ingredients:dextrose, hydroxypropyl methylcellulose, organic rice bran extract blend (rice extract, rice hulls, gum arabic, sunflower oil), citric acid, orange flavor, maltodextrin, organic rice fiber.
No:salt, yeast, wheat, gluten, soy, dairy products, artificial coloring, artificial flavoring, or artificial preservatives.
Recommendations:Chew one tablet. May take one tablet up to three times daily.
KEEP OUT OF REACH OF CHILDREN
If pregnant or nursing, consult a healthcare practitioner before using.
Q. Don't we need our stomach acid?
Absolutely! Stomach acid is important for the digestion of protein and minerals, and helps protect us from pathogens (germs) that can be in the food we eat. However, every once in a while, people may eat something or have a very stressful experience that leaves them feeling very uncomfortable. This product is designed for those occasions. It is a healthier and safer alternative than the solo calcium products designed for occasional use. However, for long-term digestion support, we offer Advanced Heartburn Rescue.*†
†Relief of occasional heartburn
Q. Why choose calcium carbonate instead of the chelated forms?
We use calcium carbonate because it is designed to work locally in the stomach to neutralize excessive stomach acid. For products targeting bone health or for other types of health support, we use the amino acid chelated calcium for enhanced absorption and utilization.*
Q. If I use more than 2 tablets in a day, will I get too much vitamin D?
You may take Immediate Heartburn Relief†* up to 6 times a day, as needed. There are 37.5 mcg (1,500 IU) of vitamin D in 6 tablets, which is well within the commonly recommended dosage range.
†Relief of occasional heartburn