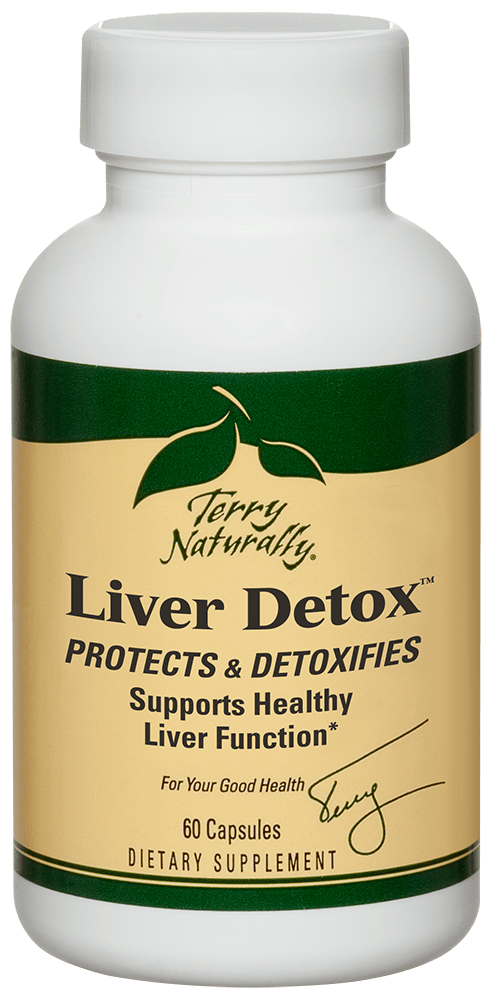 Liver Detox™
PROTECTS & DETOXIFIES
Supports Healthy Liver Function*
Liver Detox™
A premium liver formula, Liver Detox combines proven ingredients for optimal liver support. Sesamin has been clinically studied to support liver enzyme activity, French Grape Seed VX1® protects liver cells from oxidative stress, and silybin and other milk thistle compounds enhance liver function and detoxification. Combining these ingredients creates a broad spectrum approach to liver health.*

• Supports healthy liver metabolism
• Enhances ongoing liver detoxification
• Protects liver cells from oxidative stress*
Supplement Facts
Serving Size:2 Capsules
Servings Per Container:30
Ingredient
Amount/Serving
Daily Value
Proprietary Complex
540 mg
**

Milk Thistle (Silybum marianum) Seed Extract standardized to contain ≥ 80% silymarin (silybin, silydianin and silychristin), French Grape (Vitis vinifera) Seed Extract (VX1®) standardized to contain ≥ 99% polyphenols and ≥ 80% OPCs (Tannin Free), Silybin Phytosome (Silybum marianum fruit extract/sunflower lecithin complex), Sesame (Sesamum indicum) Seed Extract standardized to contain ≥ 60% sesamin and ≥ 70% total lignan

---

**Daily Value (DV) Not Established
Other Ingredients:microcrystalline cellulose, hydroxypropyl methylcellulose (vegetable cellulose capsules), silica, vegetable source stearic acid.
No:sugar, salt, yeast, wheat, gluten, corn, soy, dairy products, artificial coloring, artificial flavoring, or artificial preservatives.
Recommendations:1-2 capsules, twice daily.
If pregnant or nursing, consult a healthcare practitioner before using.
Is this product for daily use or for short-term use as a liver detox?
Liver Detox™ can be used daily for ongoing support, or short-term when specific liver support is especially need. Consider pairing it with CuraMed® for an even greater range of benefits.*
Why are there two milk thistle ingredients?
Milk thistle contains many healthy compounds to support liver health. One group is called silymarin, which includes silybin, silydianin and silychristin. Some studies have looked specifically at the effectiveness of silybin. Therefore, we have included a milk thistle extract with the full spectrum of silymarin, and another milk thistle extract with a higher standardization for silybin specifically. We feel this combination offers the highest efficacy for optimal liver health.*