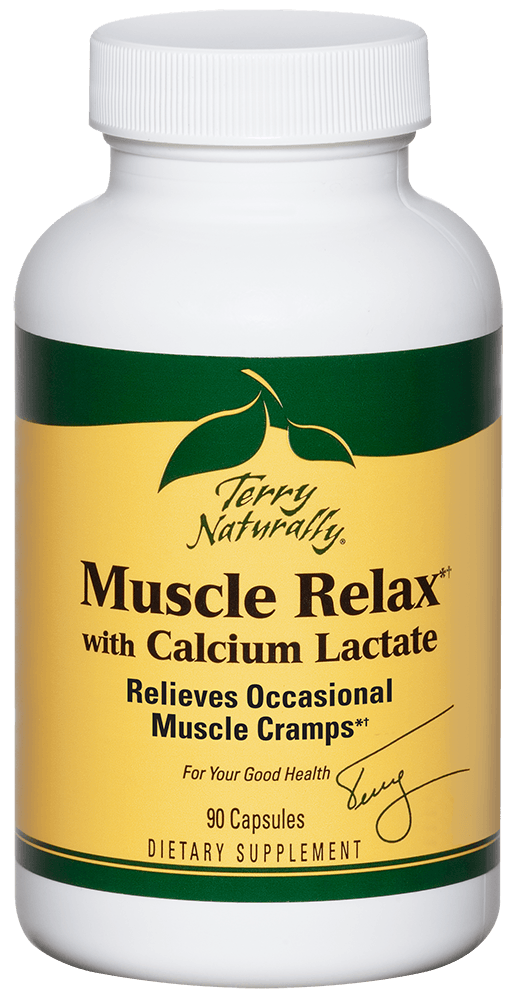 Muscle Relax with Calcium Lactate*†
Relieves Occasional Muscle Cramps*†
Muscle Relax*† contains calcium lactate to replenish calcium lost from soft tissues due to exhaustion, stress and excessive sun exposure.*
Helps legs rest and relax at night
Supports the nervous system
Supports healthy respiratory and lung function
Relieves occasional nighttime cramps, especially legs and feet*†
Great for kids
†Relief of occasional muscle cramps due to exercise or overuse
Serving Size: 6 Capsules
Servings Per Container: 15
Ingredient
Amount/Serving
Daily
Calcium (from calcium lactate)
250 mg
25%
Magnesium (from magnesium citrate)
50 mg
12%
Zinc (from zinc gluconate)
6 mg
40%

---
Other Ingredients: hydroxypropyl methylcellulose (vegetable cellulose capsules), microcrystalline cellulose, organic rice concentrate, silica.
No: sugar, salt, yeast, wheat, gluten, corn, soy, dairy products, artificial coloring, artificial flavoring, or artificial preservatives.
Recommendations: 6 capsules daily, when needed.
VEGAN
NON-GMO
If pregnant or nursing, consult a healthcare practitioner before using.

† Relief of occasional muscle cramps due to exercise or overuse
Should I take Muscle Relax* every day?
Muscle Relax*† is really intended for occasional use when you need additional muscle, respiratory, or other health support.*
Can children use this supplement, too?
Yes. In fact, Muscle Relax*
†
is ideal for children who need extra respiratory support after playing all day outside.* Simply open the capsule and mix with applesauce, yogurt, or other favorite food.
Can I continue to take my calcium supplement for bone health?
Yes. Muscle Relax*
†
is just another tool that your body uses for overall health, but its focus is really on soft tissue support rather than bone health.*