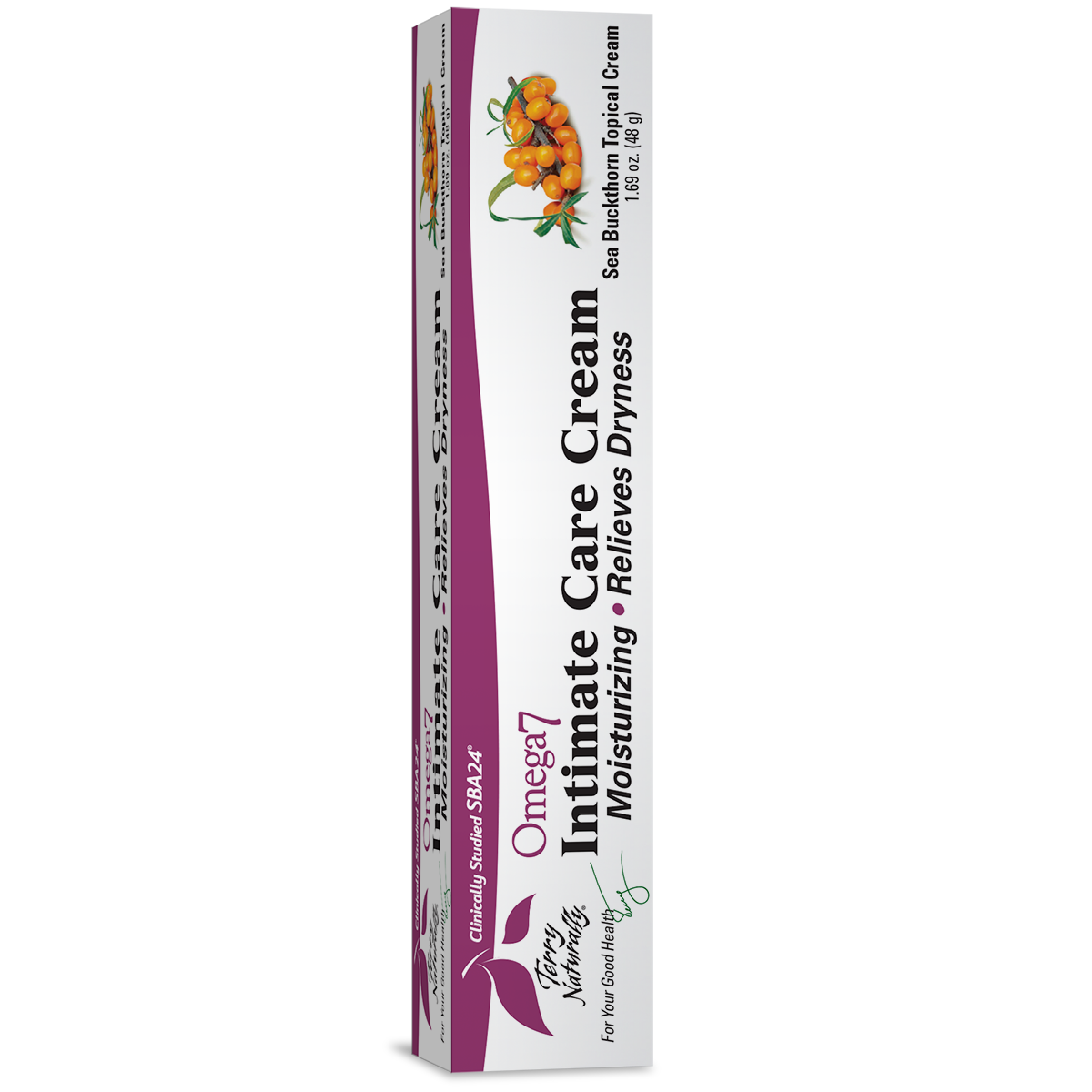 Omega7 Intimate Care Cream
Moisturizing, Relieves Dryness
Sea Buckthorn Topical Cream

SKU 20155 | 1.69 oz. (48 g)
Omega7 Intimate Care Cream delivers clinically studied sea buckthorn oil plus supportive, gentle herbal ingredients for desired results. It is the perfect choice for women in menopause—or any time of life—who need a moisturizing, replenishing topical cream for intimate care.
Relieves dryness
Replenishes moisture
Paraben free
Fragrance free

Ingredients: Aqua, Cetearyl Alcohol, Dicaprylyl Ether, Sodium Lactate, Polysorbate 60, Cetyl Palmitate, Hippophae rhamnoides (Sea Buckthorn) Oil, Sorbitan Stearate, Sodium Hyaluronate, Phenoxyethanol, Lactic Acid, Helianthus annuus (Sunflower) Seed Oil, Rosmarinus officinalis (Rosemary) Leaf Extract, Sodium Dehydroacetate, Sodium Benzoate.
Omega7 Intimate Care Cream
Apply to labia 1 to 4 times daily or as needed for moisturizing support.
TOPICAL CREAM • 1.69 oz. (48 g)
Store at room temperature
Product of Finland
Terry Naturally brand products contain natural and other premium ingredients.
Can this be used on a daily basis?
Yes, Omega7 Intimate Care Cream can be used 1 to 4 times daily, or as needed.
Is this product gluten free?
Yes, this product is gluten free.
What is sea buckthorn?
Sea buckthorn (Hippophae rhamnoides) berries supply the omega-7 found in this intimate care cream. The plant is found in Northern latitudes, and berries from sea buckthorn have a long history of traditional use and contain a variety of valuable compounds. The clinically studied SBA24® sea buckthorn used in Omega7 Intimate Care Cream is extracted using environmentally-friendly, solvent free, supercritical CO2 technology, and includes both the berry (where the omega-7 is found) and the seed of the berry for a complete spectrum of nutrients for topical use.