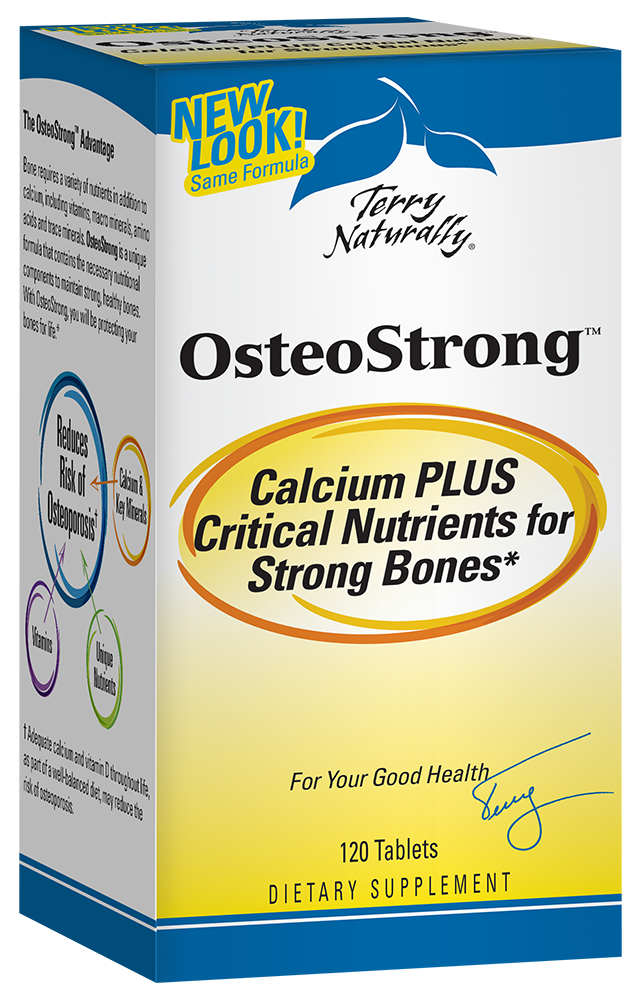 OsteoStrong™
Calcium PLUS Critical Nutrients for Strong Bones*
The OsteoStrong Advantage: Premium Ingredients That Matter
When you think of strong bones, you probably think of calcium. But healthy bones require a variety of nutrients in addition to calcium. OsteoStrong is a unique formula that delivers the components you're looking for in one, convenient formula.*
The best ratio of calcium to magnesium: While calcium is critical, it's only effective when combined with other minerals and nutrients. OsteoStrong features the 2:1 ratio of calcium to magnesium—the right proportion for building strong bones.*
Minerals that absorb: Minerals can be difficult for the body to use. OsteoStrong features TRAACS® minerals, chelated to the amino acid glycine, for the best absorption and to promote healthy bone density.*
MenaQ7®: This clinically studied form of vitamin K2 helps facilitate mineral absorption into the bone.*
Probiotics for healthy bones: Lactobacillus sporogenes is a probiotic that yields lactic acid, supporting an environment in the intestines that promotes greater mineral absorption, particularly of calcium.*
Easy-to-swallow: The smooth coating on each tablet makes them easy to swallow and gentle on the stomach, so your customers are more likely to stick with their bone-support regimen.*


Building Bones for Life *
It's never too early to support strong bones, and OsteoStrong can help. It delivers an exclusive combination of nutrients and the necessary components to maintain strong, healthy bones, and reduce the risk of osteoporosis.*†

† Adequate calcium and vitamin D throughout life, as part of a well-balanced diet, may reduce the risk of osteoporosis.
MenaQ7® is a trademark of NattoPharma ASA, Norway.
TRAACS® is a registered trademark of Albion International, Inc.
Supplement Facts
Serving Size:4 Tablets
Servings Per Container:30
Ingredient
Amount/Serving
Daily Value
Calories
15
Total Carbohydrate
2 g
<1%†
Protein
2 g
4%†

---

Vitamin D3 (as cholecalciferol)
4,000 IU
1,000%
Vitamin K
345 mcg
431%

(300 mcg of Vitamin K1 [as phytonadione])
(45 mcg of Vitamin K2 as menaquinone-7 [MK-7 as MenaQ7®])

Calcium
450 mg
45%

(from TRAACS® Calcium Bisglycinate Chelate, calcium fructoborate, calcium ascorbate, and d-calcium pantothenate)

Magnesium
200 mg
50%

(from TRAACS® Magnesium Bisglycinate Chelate, Magnesium Oxide)

Zinc
20 mg
133%

(from TRAACS® zinc bisglycinate chelate)

Copper
2 mg
100%

(from TRAACS® copper bisglycinate chelate)

Manganese
2 mg
100%

(from TRAACS® manganese bisglycinate chelate)

---

Boron (from calcium fructoborate)
12.5 mg
**
Lactobacillus sporogenes
1 billion
**

(Bacillus coagulans, lactic acid bacteria)

---

**Daily Value (DV) Not Established
† Based on a 2,000 calorie diet
Other Ingredients:microcrystalline cellulose, croscarmellose sodium, stearic acid, maltodextrin, glycerol monostearate, hydroxypropyl methylcellulose, dicalcium phosphate, silica, organic rice bran extract, glycine.
No:sugar, salt, yeast, wheat, gluten, soy, dairy products, artificial coloring, artificial flavoring, or artificial preservatives.
Recommendations:4 tablets daily. May be taken as 2 tablets in the a.m. and 2 tablets in the p.m.
If pregnant or nursing, or taking a blood thinning medication, consult a healthcare practitioner before using.
NON-GMO
MenaQ7® is a registered trademark of NattoPharma ASA, Norway.
TRAACS® is a registered trademark of Albion International, Inc.
Why can't I just take calcium?
Even though calcium is the major mineral in bones and teeth, just using calcium alone isn't enough to support their health. Calcium works best with other minerals that help it absorb and build bone structure, especially magnesium, phosphorus, and vitamin D.*
Is all calcium the same?
No. With calcium, as with most nutrients, the most important factor is absorption. The calcium in OsteoStrong is TRAACS® calcium bisglycinate chelate. That means it is chelated to the amino acid glycine for enhanced absorption – and ultimately, use – by the body. More commonly seen forms of supplemental calcium may not be absorbed as efficiently, and therefore, may not provide the same bone-supporting strength as OsteoStrong.*
Additionally, calcium needs the support of other nutrients, like magnesium, vitamin D, vitamin K, and silica, to make sure it is properly utilized for bone building. Calcium is not required in large "megadoses," which can have adverse effects on health. Single ingredient calcium products are not recommended
Do I really need to worry about healthy bones? I'm still young.
When it comes to supporting healthy bones, you really can't start too early. By the age of 20, the average person has acquired 98% of their skeletal mass. But lifestyle choices, including diet and exercise can affect the health of bones.