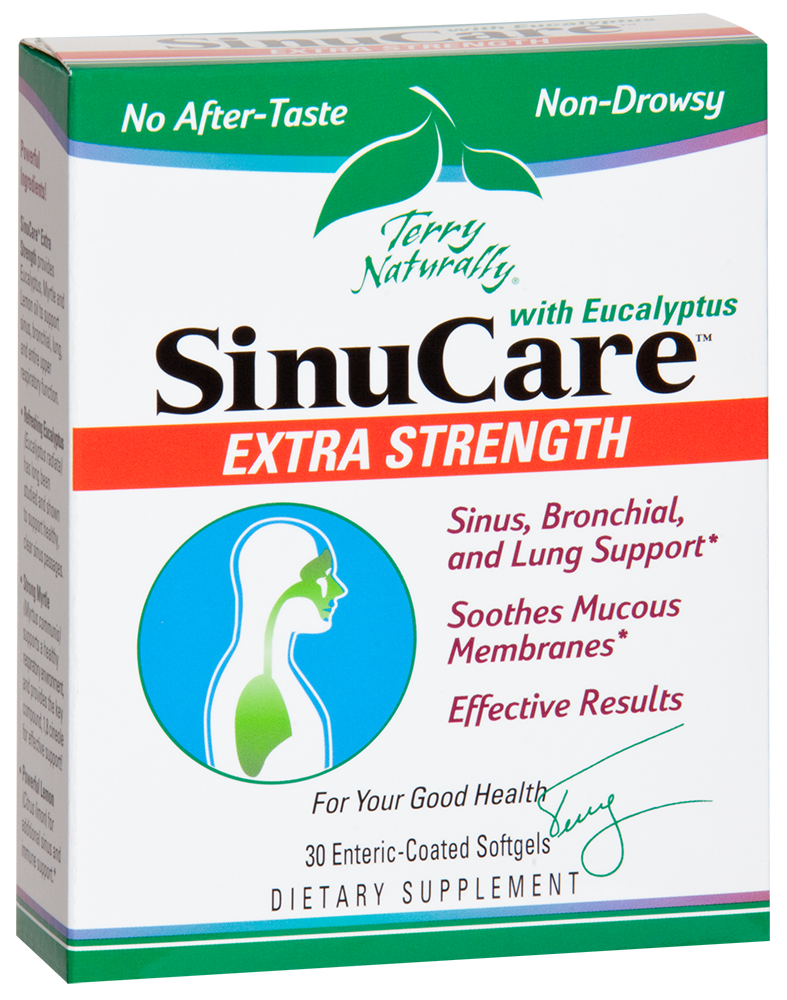 SinuCare™ Extra Strength
with Eucalyptus
Sinus, Bronchial, and Lung Support Soothes Mucous Membranes*—Non-Drowsy
SKU 32503 | 30 Enteric-Coated Softgels
Why SinuCare Extra Strength? More Powerful!
Provides more of the powerful eucalyptus and myrtle found in SinuCare, with the additional synergistic strength of lemon to support both the sinus and bronchial airway passages.*
Powerful action, safe results you'll notice
Does not cause drowsiness, jitteriness or nasal dryness
Enteric-coated softgel—no burping or aftertaste
Serving Size: 1 Enteric-Coated Softgel
Servings Per Container: 30
Ingredient
Amount/Serving
Daily
Double Strength Proprietary Formula
325 mg
**

Containing Eucalyptus (Eucalyptus radiata) Leaf Oil with 50-70% 1,8 cineole, 2-15% alpha terpineol, <10% alpha pinene, and <10% limonene, Myrtle (Myrtus communis) Leaf Oil containing 20-60% alpha pinene, 15-35% 1,8 cineole and <20% limonene, Lemon (Citrus limon) Zest Oil

---

**Daily Value (DV) Not Established
Other Ingredients: extra virgin olive oil, gelatin, glycerol, water, enteric coating (ethylcellulose, purified water, cellulose gum, talc, medium chain triglycerides).
No: sugar, salt, yeast, wheat, gluten, corn, soy, dairy products, artificial coloring, artificial flavoring, or artificial preservatives.
Recommendations:
1 enteric-coated softgel, up to 3 times daily or as needed.
NON-GMO
If pregnant or nursing, consult a health care practitioner before using.
Can children use SinuCare Extra Strength?
The concentrated plant oil ingredients in SinuCare Extra Strength are very powerful. Because of this, one softgel a day is the suggested dosage for children ages 6-12. It is not recommended for use in children less than 6 years of age. Please discuss use of any dietary supplement with your child's health care practitioner.
Why is SinuCare Extra Strength in enteric-coated capsules?
The concentrated eucalyptus oil is very powerful. Higher levels of eucalyptus (compared to our regular SinuCare supplement) require enteric coating for those who are sensitive to eucalyptus oil. The enteric-coated capsule allows the ingredients to be released in the intestines, rather than the stomach, to prevent any gastric discomfort, aftertaste, or burps.
With SinuCare, I breathe easy at night and sleep longer...
I have been using the SinuCare product now most of the summer and it works great. I breathe easy at night and sleep longer. I recommend it to my coworkers often.
— Jim K
I feel better with SinuCare!
I found a bottle of SinuCare, took two pills and I feel better! Bless you.
— Kathryn W
Your SinuCare is the BEST
Your SinuCare is the BEST product I have ever found. Thank you!!
— Jeanne M.
Thank you for SinuCare!
My wife went to the Terry Naturally store in Green Bay and received a recommendation from Debra for me to try SinuCare. These ingredients really help support my sinuses. I take two tablets before going to bed and have slept much better. My wife and I thank you!
— Mark N
SinuCare - Very Powerful
So far good on SinuCare. The 1st day I took 2 and it wasn't long until I felt it coming up through my nose. It seems very powerful. This is the best product for your sinuses. It is strong and I feel a lot better, I believe it is effective. This is a very healing supplement and I am thrilled to have found it along with many other products. Again Thank You for your kindness and continue letting others know about Terry Naturally.
— Linda W.