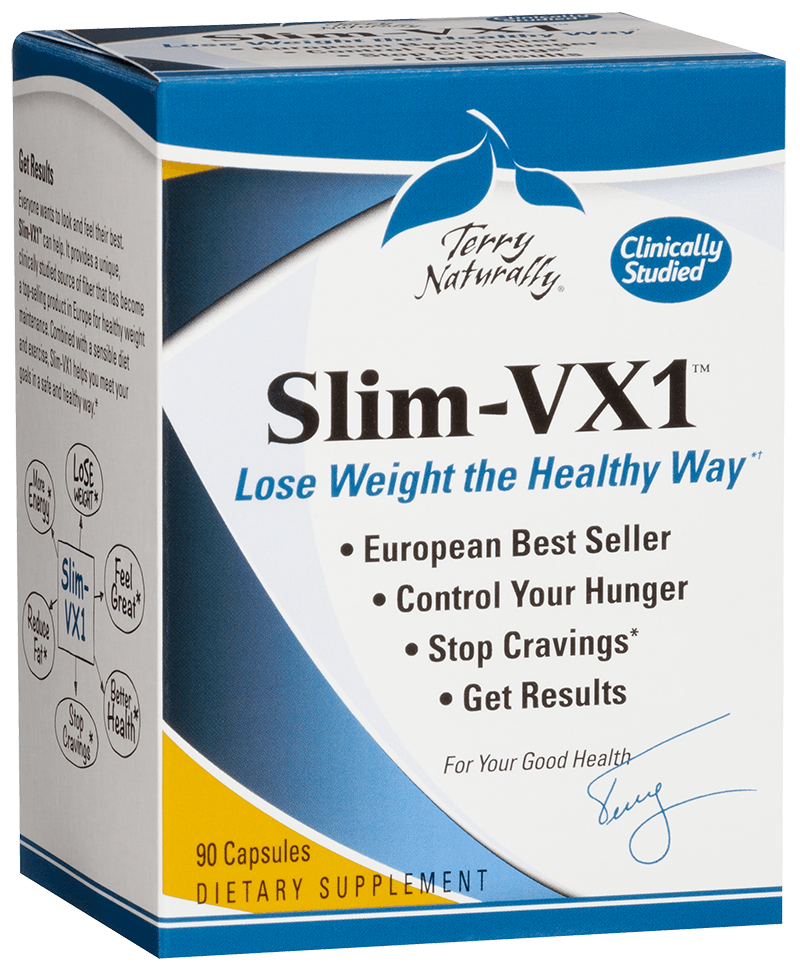 Slim-VX1™
Lose Weight the Healthy Way*†
European Best Seller
Control Your Hunger
Stop Cravings*
Get Results


Weight loss can seem like an endless uphill climb—even when you are exercising and watching what you eat. Sometimes you need more than just diet and exercise to succeed. Now there is a clinically studied way to jump-start weight loss—Slim-VX1.*†
Stop cravings—reduces the urge to binge*
Helps you feel full longer—the clinically studied fiber signals the brain to let you know
you're full*
Supports healthy blood sugar levels††—reduces spikes or slumps during the day that drive you to overeat*
Safe, stimulant free—guaranteed. No drugs, no hormones, no caffeine


You can count on this unique, clinically studied plant fiber, tannin-free French Grape Seed VX1®, and powerful ginger combination to support your metabolism. Slim-VX1 can help you meet your weight loss goals.*†
VEGAN NON-GMO
† In conjunction with a healthy diet and exercise regimen
†† Healthy levels already within the normal range.
If pregnant or nursing, consult a healthcare practitioner before use.
*THESE STATEMENTS HAVE NOT BEEN EVALUATED BY THE FOOD AND DRUG ADMINISTRATION.
THESE PRODUCTS ARE NOT INTENDED TO DIAGNOSE, TREAT, CURE OR PREVENT DISEASE.
Serving Size: 2 Capsules
Servings Per Container: 45
Ingredient
Amount/Serving
Daily
Proprietary Complex
1,500 mg
**

Fiber complex derived from Aspergillus niger, Ginger (Zingiber officinale) Rhizome Extract standardized for ≥ 6% gingerol content, French Grape (Vitis vinifera) Seed Extract (VX1®) standardized to contain ≥ 99% polyphenols and ≥ 80% OPC

---

** Daily Value (DV) not established
Other Ingredients: hydroxypropyl methylcellulose (vegetable cellulose capsules), silica, vegetable source magnesium stearate, cellulose powder.
No:
sugar, salt, yeast, wheat, gluten, corn, soy, dairy products, artificial coloring, artificial flavoring, or artificial preservatives.
Recommendations:
1-2 capsules with water before meals, 3 times daily.
VEGAN NON-GMO
† In conjunction with a healthy diet and exercise regimen
†† Supports healthy levels already within the normal range
Can someone taking this product expect to lose weight, without watching what they eat or exercising?
The hard truth is that diet and exercise will always be a part of losing weight. The question is, can something make the outcome more successful? The answer is to add in Slim-VX1™. In the clinical study, those taking the unique fiber featured in Slim-VX1™ lost up to 7 times the weight of those in the placebo group in a three month period. (The placebo group gained on average half a pound.) No dietary restrictions were placed on either of the groups.
Weight loss supplements can come with caffeine and questionable ingredients—how is Slim-VX1™ different?
Slim-VX1™ has absolutely no drugs, no hormones, and no caffeine. It's a blend of unique, clinically studied plant fiber, tannin-free French Grape Seed VX1®, and powerful ginger that reins in the appetite and supports metabolism.*