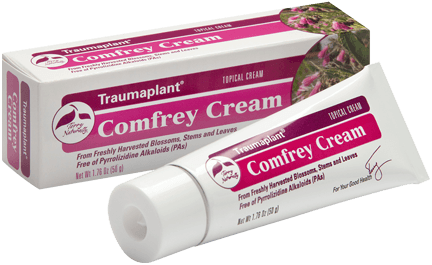 Traumaplant® Comfrey Cream
From Freshly Harvested Blossoms, Stems and Leaves—Free of Pyrrolizidine Alkaloids (PAs)
SKU 01385 | 1.76 oz (50 g)
SKU 01381 | 3.53 oz (100 g)
Made from the blossoms, leaves, and stems of a specialized comfrey grown specifically for the product (Symphytum x uplandicum NYMAN), Traumaplant is free of the pyrrolizidine alkaloids found in more common comfrey varieties extracted from the root.
14 clinical studies, including 4 randomized, double-blind studies
Free of toxic pyrrolizidine alkaloids (PAs)
Safe for children ages 4 and up
Specialized comfrey—grown especially for this product
Non-staining comfrey cream
A favorite worldwide—millions sold—finally available in the United States!
A must-have for every home, backpack, or purse!
One tube does it all!


Ingredients:
Purified Water, Glyceryl Stearate, Comfrey (Symphytum x uplandicum NYMAN) Extract naturally containing Choline, Rosmarinic Acid and Allantoin, PEG-20 Glyceryl Stearate, Isopropyl Myristate, Propylene Glycol, Octyldodecanol, Glycol Salicylate, Dimethicone, Sorbic Acid, Rosemary (Rosmarinus officinalis) Oil, Tocopheryl Acetate, Citric Acid.
---
Cultivated without chemicals—Paraben Free
Recommendations:
Apply liberally several times daily, or as often as desired. Safe for adults and children over 4 years of age.
If pregnant or nursing, consult a health care practitioner before using.
For external use only. Avoid contact with eyes. Store at room temperature. Keep out of reach of children.
Cultivated without chemicals. Paraben free.
What about pyrrolizidine alkaloids (PAs)? Aren't they common in comfrey?
In many common types of comfrey, PAs can be a concern. With Traumaplant you don't have to worry. The specific comfrey plant used for the product has been developed to be free of PAs. So, when comparing Traumaplant comfrey cream to other topical comfrey products, remember there are no (PAs) in the special cultivar of the comfrey plant used for our product. Therefore, there are no PAs in our product. Only the above ground parts, i.e., leaves, stems, and flowers, are used in Traumaplant because of the concentration of beneficial compounds. Other companies do not have access to this unique type of safe and effective comfrey. All other topical comfrey products, whether creams, ointments, or oils, contain PAs. It does not matter if the other product is made from roots, stems, leaves, or flowers of the plant. Additionally, the plants receive extremely close attention. This ensures that they are never contaminated by other comfrey species. Traumaplant also retains all the beneficial components of the plant, so you get the choline, rosmarinic acid derivatives and allantoin you need. This is why Traumaplant is clearly superior to other comfrey products in the market.
Is it okay if my children use Traumaplant?
Yes. Traumaplant's properties are perfect for children ages 4 years and older.
Nothing worked until I tried Traumaplant Comfrey Cream
I started using Traumaplant Comfrey Cream in late May. I have tried several different creams and nothing worked, until now. Thank you Terry for the great products!
— Rich