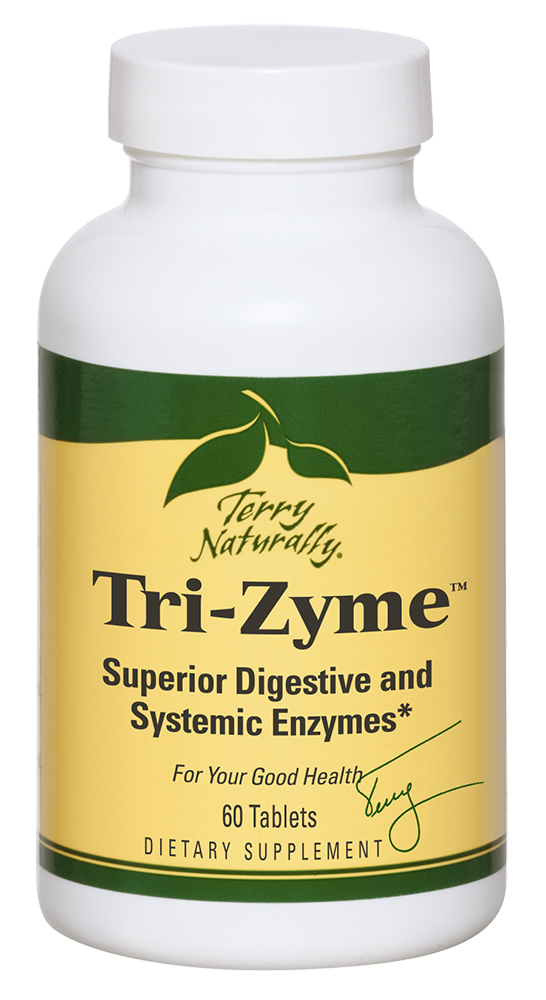 Tri-Zyme™
Superior Digestive and Systemic Enzymes*
• Bioidentical enzymes for digestion and systemic support
• Helps digest proteins, carbohydrates and fats
• Maximum strength pancreatin for immune support*
The enzymes in Tri-Zyme are most similar to your body's own enzymes – allowing them to work effectively for both digestive and systemic support.*
Supplement Facts
Serving Size:1 Tablet
Servings Per Container:60
Ingredient
Amount/Serving
Daily Value
Full Strength Pancreatin (undiluted) (porcine source)
250 mg
**

Protease Activity 56,250 USP units
Amylase Activity 56,250 USP units
Lipase Activity 8,500 USP units

---

**Daily Value (DV) Not Established.
Other Ingredients:calcium carbonate, microcrystalline cellulose, stearic acid, croscarmellose sodium, organic rice concentrate, silica, hydroxypropyl methylcellulose.
No:sugar, salt, yeast, wheat, gluten, soy, dairy products, artificial coloring, artificial flavoring, or artificial preservatives.
Recommendations:1 tablet with each meal, or as desired. Take with meals for ultimate digestive benefits. Take on an empty stomach for systemic support (arteries, joints, muscles).*
If pregnant or nursing, consult a healthcare practitioner before using.
Should I take Tri-Zyme with every meal and snack?
Most people will probably find that Tri-Zyme is best used with each major meal (typically breakfast, lunch and dinner) daily. However, it can be used on an occasional basis for occasional additional digestive support. Tri-Zyme can also be taken between meals to support muscles and pain relief † making it a good choice to add to your supplement regimen if you have an active life. In addition, Tri-Zyme taken between meals provides overall systemic benefits, supporting healthy cellular development.*
† Occasional muscle pain due to exercise or overuse.
How many Tri-Zyme tablets can I take each day? Is there an upper limit?
The recommended dosage for Tri-Zyme is one tablet with each meal for digestive support, and one tablet between meals (on an empty stomach) for systemic support of other body systems.* The tablets can be taken multiple times per day or as directed by your healthcare practitioner.