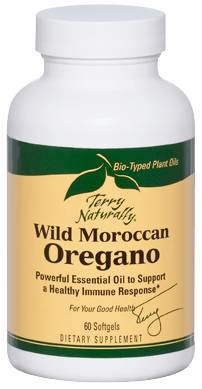 Wild Moroccan Oregano
Powerful Essential Oil to Support a Healthy Immune Response*
Wild Moroccan Oregano contains powerful compounds, carvacrol and thymol, that act as powerful antioxidants and support the body's immune response. These compounds are provided in the correct proportions, and at dosage levels that show the most benefit. This supplement is perfect for supporting healthy microflora balance, and respiratory and immune function.*
Plant Oils are 75 to 100 times more concentrated than dry herbs.
Serving Size: 1 Softgel
Servings Per Container: 60
Ingredient
Amount/Serving
Daily
Moroccan Oregano (Origanum compactum) Aerial Oil
150 mg
**

containing 55% of carvacrol and thymol (82.5 mg)

---

**Daily Value (DV) Not Established
Other Ingredients: extra virgin olive oil, gelatin, glycerin, water.
No: sugar, salt, yeast, wheat, gluten, corn, soy, dairy products, artificial coloring, artificial flavoring, or artificial preservatives.
Recommendations:
1 softgel daily. May increase to 1 softgel twice daily.

If pregnant or nursing, consult a healthcare practitioner before using.
Should I take Wild Moroccan Oregano every day?
Wild Moroccan Oregano is best used for brief periods, when extra support of the immune system is needed most.*
Can I let the softgel dissolve in my mouth?
Wild Moroccan Oregano is intended for internal use. It has a very strong flavor, and because of this, swallowing the softgel without letting it dissolve in the mouth is recommended.
Can children use Wild Moroccan Oregano?
Concentrated plant oils are not recommended for children under the age of six. Please discuss use of any dietary supplement with your child's health care practitioner.